Private guided walking tour in the historic center of Delft,
themes include Vermeer & the Seventeenth-Century world of art
Subjects: History, Art History and Architecture. Academic tour by scholar-lecturer, art historian Drs. Kees Kaldenbach*
Delft is situated near The Hague in the province of South Holland.
Dutch/Nederlandse version.
The Dutch city of Delft, our educational and fun day trip, was the original seat of the revolutionary Dutch government. In Delft the Protestant leader William of Orange led the political insurrection against the lawful ruler, the Roman Catholic King of Spain. The main issue on which The Netherlands was founded was freedom of religion and conscience.
A walk through 21st century Delft will include the very cloister building in which William of Orange lived, worked and was finally murdered. Delft is now almost an open air museum for a number of historical reasons; letís see whether all monuments and places listed here are indeed open to the public during our visit!
On market squere we also find the Town Hall. Most of the daytime the front room of the Town Hall (above) is open to visitors. Inside you will see the wall maps and the tiled floor which made Delft famous in paintings. The Town Hall of Delft is an edifice combining many public functions.
The grand New Church with its imposing spire (below) is important as the church contains William of Orangeís grave monument.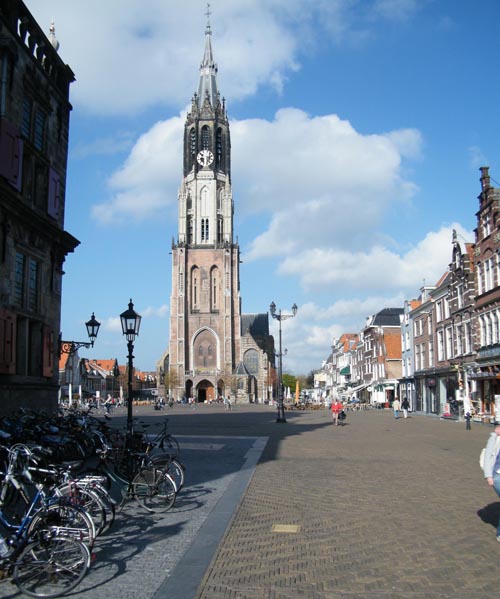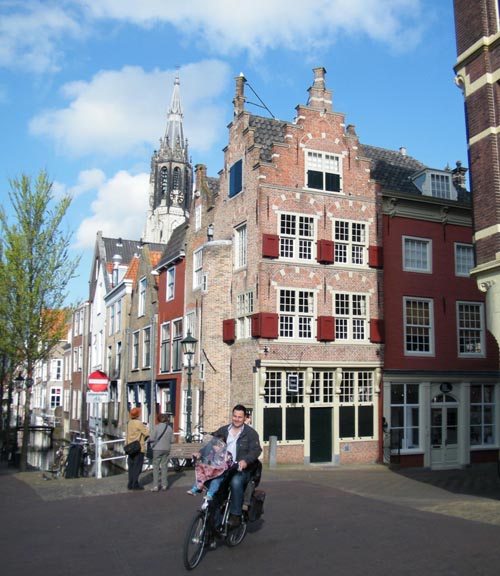 Above: Voldersgracht, where Vermeer was born in 1632 and where the St Luke Guild was situated.
The beautifully situated Old Delft canal is the site of the Oude Kerk (Old Church), another major Delft church. It is also the location of the grave marker of Johannes Vermeer, the most famous painter of the Delft school. In walking these wonderful old canals we will also see the local headquarters of the United East India Company as well as many of the houses of merchants who grew rich from their international trade with the North, South, East and Far East. We will also discuss local wealth from breweries and the many Delftware workshops producing Delft Blue. A visit to a real Delft Blue workshop may be part of the itinerary.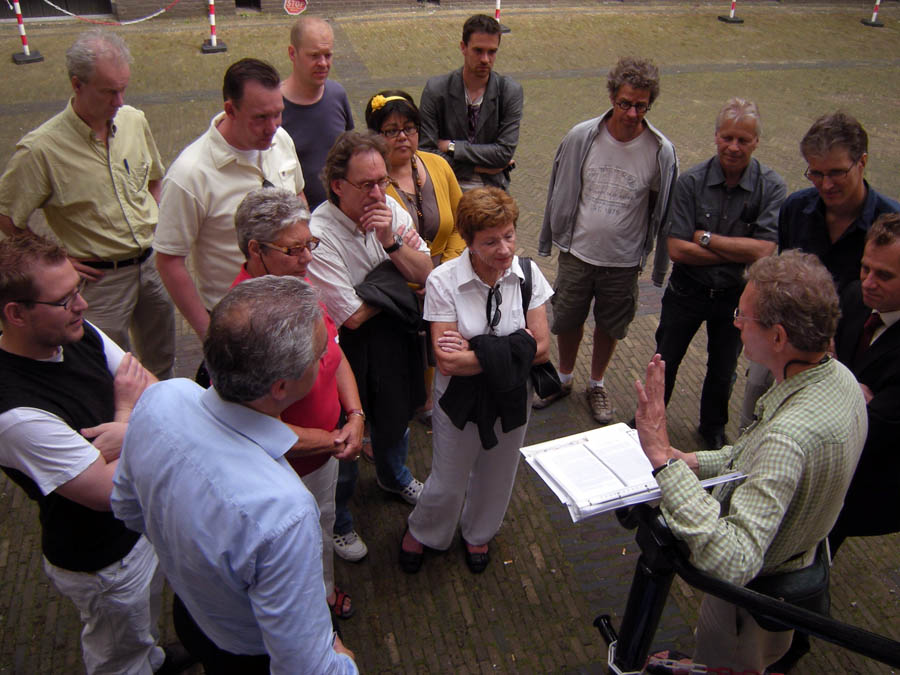 In one hidden town square we may also find a paint store, which still looks like a store from the days of Charles Dickens. We may also enter the house where Johannes Vermeer was born, and a little further on we see the memorial plaque at the site of the house where Vermeer produced his incomparable paintings. This is the historic Vermeer marker I personally created. A visit to the newly built Vermeer center (in the former Guild Hall) giving an overview of Vermeerís life may finally conclude our Delft walking tour.

Drs Kaldenbach has created one of the most detailed web sites (+2000 items) about Delft and Vermeer. He is considered a foremost specialist on the subject.

The car drive from Amsterdam is just over 1 hour. My car will seat 3 or 4 adults.

Dutch/Nederlandse version.

Practical matters

An ideal combination is seeing the Vermeer paintings in the Mauritshuis, The Hague on the same day.

Tour duration in Delft: 2 to 3 hours.

Read a biography.

Fine Print / Legal issues

Bookings are finalized with a downpayment. I will send detailed instructions. Cancellation: The charges for cancellation more than 48 hours in advance are covered by your deposit. Charges for client cancellation 24-48 hours in advance: 25% of the agreed sum to be billed to the client's credit card. Charges for client cancellation less than 24 hours in advance: 60% of the agreed sum to be billed to the client's credit card. When booking, you agree to these arrangements.

As an art historian based in Amsterdam, The Netherlands, I can meet you in Delft for a personalized guided tours of art museums and the wonderful historic center.

Together we will experience the beauty and history. Enjoy yourself and learn about history while strolling and discussing the country's history, art and culture. In doing so, we may touch many bases - spanning not only fine art and architecture but also the city's history and current social issues. See client testimonials.

Read my biography.

Starting at your hotel I will take you on a wonderful private cultural walking tour of your choice. My guided itinerary offers you accessable informative conversation in English, Dutch, or German (my French and Italian are more limited).

Drs. Kaldenbach is chairman of the Circle of Academic Tour Guides of the Netherlands and Flanders (CATON)

---

You may also arrange this VIP treatment for business contacts or friends. Our cultural tour organisation office will take care of a unique and memorable experience.

Drs. Kees Kaldenbach is your private "scholar-lecturer on culture tours" *.

*Martha Gellhorn, Travels with Myself and another, p. 182.

---

Please contact me for time and fees of the tailor-made tour you ar interested in.

These tailor made tours are available upon request - please contact me to book a date. Minimum group size: 1 person. Maximum group size is limited to about 10 persons. With a megaphone I can also manage larger groups on the streets.

---

Complete Listing of tours

Photo by Dick Martin.

---

Endorsements

The Rijksmuseum has done me the honor of linking the main Rijksmuseum site to my website. Start at www.rijksmuseum.nl and select Collection. Then choose 'Digital Collaboration' and the 'Digital Vermeer House'.

I conduct Rembrandt walks in Amsterdam for the Netherlands Bureau of Tourism, London and New York City offices. Their clients include important journalists.

The travel site www.luxurytraveler.com has devoted a main feature to my tours and walks.

Read further client testimonials.

---
About Drs. Kees Kaldenbach:
Read a biography.
Drs. Kees Kaldenbach has been featured in television and radio documentaries, including BBC2 TV, NTV Japan, Danish TV and Radio Netherlands World Service. In July 2004 he was interviewed about Delft artists the Nishinippon (Japan, 2012) and by Tetsuya Tsuruhara for the leading Japanese newspaper The Yomiuri Shimbun. In 2004 and 2005 he acted in an advisory role to additional BBC teams. Kaldenbach has written extensively on Vermeer and 17th century Delft, also on Vincent van Gogh and on other art history topics.
Drs. Kees Kaldenbach is your private "scholar-lecturer on culture tours".
Further information is available on his encyclopedic web site: www.johannesvermeer.info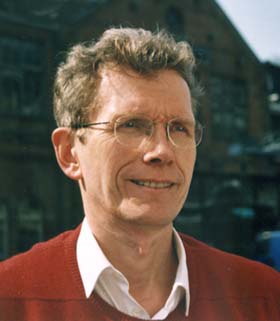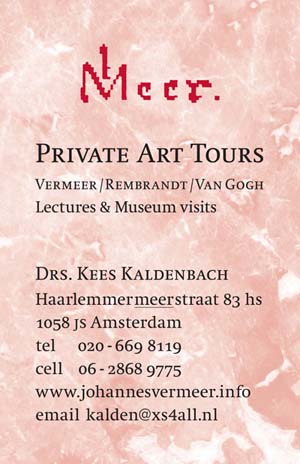 Contact information:
Drs. Kees Kaldenbach , kalden@xs4all.nl
Haarlemmermeerstraat 83 hs
1058 JS Amsterdam
The Netherlands
telephone 020 - 669 8119 (from abroad NL +20 - 669 8119)
cell phone 06 - 2868 9775 (from abroad NL +6 - 2868 9775)
Reaction, questions? Read client testimonials.

Open seven days a week.

Member of the VVV Tourist information and the Amsterdam Chamber of Commerce (Kamer van Koophandel).

Email responses and bookings to art historian Drs. Kees Kaldenbach.

This page forms part of the 2000+ item Vermeer web site at www.xs4all.nl/~kalden

Launched April 15, 2006. Updated Feb 14, 2013.

ADVERTISMENT: Donít look anywhere else for 646-985 practice exam . We also provide 70-463 questions outlet as well. Besides keeping in mind the demand of 642-637 study guide, we have introduced the 70-647 course to satisfy the thirst with our quality service. Get qualifying 642-648 dumps here.