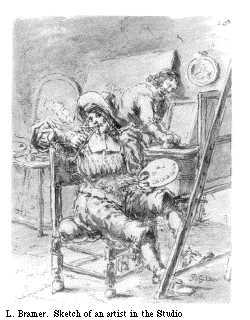 PPV
Pieter Pietersz Vromans III (1577-1654/62). History painter in the manner of Bramer. In Guild 1635. He lived on the south side of Molenstraat in 1624 and 1641 but sold this house in 1646. In 1650 he sold the house on Hoefijzersteeg in which he lived prior to his marriage in 1609. In 1653 he sold a house on Nieuwe Langendijk. In 1646 four of his paintings were in Van Brantwijck's collection.
An imitator if not a pupil of Bramer (according to Montias 1989, 135).
Bredius Kunstler-Inventare II p. 509. GAD, NA 1984 19 June 1653; private communication by Montias, 2000. Thieme-B. XXXIV p. 581 describes members of the Vromans family who show the influence of Bramer. Wichmann 1918, p. 66. Molenstraat in GAD Huizenprot. III 752 and in RKD, Bredius archive, artist's folder, mentioning Molenstraat in 1624 (Burial), 1626 and 1649. Jan Vaersteeg = Hoefijzersteeg sold for 400 guilders, see Reg. 4E penn. Duit, quoted by Bredius. P.P. Vromans had 7 children; bequeathed 200 guilders to two daughters on 15 April 1654. His son Pieter Pietersz Vromans also became painter. Obreen I, p. 5.
This page forms part of a large encyclopedic site on Delft. Research by Drs. Kees Kaldenbach (email). A full presentation is on view at johannesvermeer.info.
Launched 16 February 2001; Last update March 1, 2017.