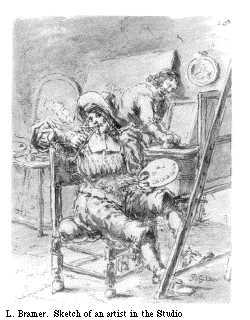 PV
Pieter Jansz Vromans / Vroommans (15??-1624). Watercolorist. Entered Guild before 1613, headman in 1651, 1653. A wealthy man, he lived on De Vlouw. He owned three houses on Voldersgracht and one on Hoefijzersteeg, his widow still living in the latter after 1624. He was the father of Pieter Pieterz Vromans (c. 1578-after 1641) and Abraham Pietersz Vromans (dates unknown), both painters.
Note. RKD, Bredius archive, artists' folder. In 1625 his Pieter's widow lived at "Jan Vaerssteeg" = Hoefijzersteeg. De Vlouw in Soutendam Necrologium, p. 23. GAD Koopbrieven Huiseigenaren, letter V mentions widow in Hoefijzersteeg.
This page forms part of a large encyclopedic site on Delft. Research by Drs. Kees Kaldenbach (email). A full presentation is on view at johannesvermeer.info.
Launched 16 February 2001; Last update March 1, 2017.