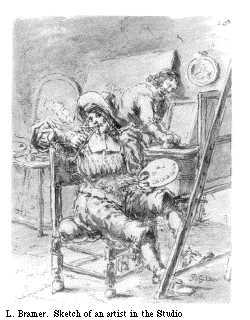 AV
Abraham Pietersz Vromans (before 1604-1660). Painter. In Guild 1621 when he lived on Hoefijzersteeg. In 1630 he lived on Markt, in 1649 on Brabantse Turfmarkt.
An imitator if not a pupil of Bramer (according to Montias 1989, 135).
He became headman of the Guild in 1652. In 1663 his widow lived on Markt.
Note. RKD, Bredius archive, artist folder, quoting from doc. 15 Aug 1621. 25 May 1649 , Not.Corn Brouwer. 10 Sept. 1663, Not F. Boogert. GAD internet DTB shows burial on 3 Feb. 1660, inv. DTB 40, OK/NK.
This page forms part of a large encyclopedic site on Delft. Research by Drs. Kees Kaldenbach (email). A full presentation is on view at johannesvermeer.info.
Launched 16 February 2001; Last update March 1, 2017.