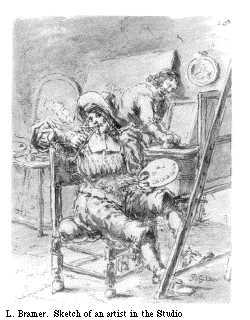 JdV
Jochum Aelbrechtsz de Vries (before 1610-1670). Seascape painter. In Guild in 1628. In 1632 he lived in "the fifth house after the slop (alley)" on Voldersgracht. He bought another house for 1600 guilders, probably De Roode Fonteyn (Red Fountain), address unknown, which he sold for 2400 guilders in 1645. In 1650 he bought a house for 970 guilders on the west side of Nieuwe Lakengracht, present day Raam and Paardenmarkt. His widow sold it in 1672 for 975 guilders.
Note. GAD Huizenprotocol Fol 370. Internet archives show he died in 1670. The following information provided by Montias, 2000. GAD Camer van Charitate, Duijt op de gulden, no. 112, Jan.-July 1639, fol. 110vo. This house cost 1600 f., probably De Roode Fonteyn (The Red Fountain) on Voldersgracht which he sold for 2,400 f. on 12 February 1645 (NA 1726).
Obreen p. 282. RKD, Bredius archive, artist's folder cites docs. 12 Feb. 1645 (Not. A. v. Block), April 1650 "Nieuwe lakengracht, in which he lives now, and stretching in the back to Pestweij." testament 1662, sale 1672 (Prot.not. R. Van Edenburgh). Exh. Cat Delftse Meesters, p. 37 claims no paintings of his hand are known.
This page forms part of a large encyclopedic site on Delft. Research by Drs. Kees Kaldenbach (email). A full presentation is on view at johannesvermeer.info.
Launched 16 February 2001; Last update March 1, 2017.