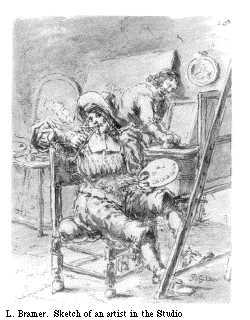 NVo
Nicolaas Arentsz Vosmaer (before 1629-1664). Painter of landscapes and seascapes; also tobacconist. In Guild in 1645. The son of a goldsmith, he Lived on Voorstraat.
In 1663 he got into debt in an inn as deep as 106 guilders.
Upon his death his meager inventory listed seascapes with a value of just over 11 guilders.
Note. RKD, Bredius archive, artist folder., citing docs. Testament 27 Oct 1657; Inventory 26 Dec. 1664. Exh.Cat Delftse Meesters, p. 37 states no seascape paintings are known now. Thieme-B. XXXIV p. 560. General literature: Jan H. Oosterloo, De Meesters van Delft, Strengholt Amsterdam, 1948: 123.
This page forms part of a large encyclopedic site on Delft. Research by Drs. Kees Kaldenbach (email). A full presentation is on view at johannesvermeer.info.
Launched 16 February 2001; Last update March 1, 2017.