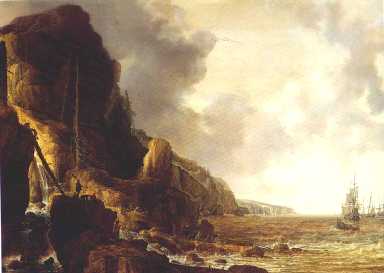 SdV
Simon de Vlieger (1601-1653). Marine and landscape painter, draughtsman and engraver; also active as tapestry designer. Born in Rotterdam. Student of the maritime painter Willem van de Velde.
In Delft Guild in 1634. In that year he rented the house "Kranenburch" on the West side of De Vlouw for 3 years at 108 guilders a year. In 1640-1641 he was commissioned by the town for works worth 700 guilders. He left Delft in 1638 for Amsterdam.
Image: Simon de Vlieger, Coast Line, 1651, Private Collection, Montreal.
Notes: Thieme-B. XXXIV, 462; birth year as 1601 in All the paintings of the Rijksmuseum p. 581. GAD NA 1858 26 February 1634 at 18 Fl. Pounds per year. Montias AA 1982 P.186 and private communication by Montias, 2000. Exh. Cat .Delftse Meesters, 1981 or 1982 p. 37 mentions 1638.
This page forms part of a large encyclopedic site on Delft. Research by Drs. Kees Kaldenbach (email). A full presentation is on view at johannesvermeer.info.
Launched 16 February 2001; Last update March 1, 2017.