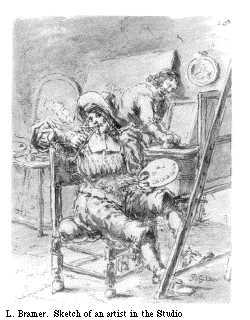 JVe
Jan Pietersz Verschuer / Verschure (?-1674). Specialty unknown. In Guild in 1671.
He was not born in Delft. He lived in De Witte Ram (The White Ram) on the west side of Oosteinde, beyond Harmenkokslaan.
Was paid 100 guilders by the town of Delft for a chimney piece in the Court.
Oosteinde mentioned in GAD Beydals collection. Year of death from De Stad Delft 1981, I, 202. Paintings were in a Rotterdam collection in 1648, see Bredius Kunstler-inventare, V, 1536, 1538, 1541. General literature: Jan H. Oosterloo, De Meesters van Delft, Strengholt Amsterdam, 1948: 121. For another painter names Lieve Pietersz Verschuier see Nora Schadee (ed.) Rotterdamse meesters in de Gouden Eeuw, Rotterdam Historisch Museum / Waanders, Zwolle1994: 303.
This page forms part of a large encyclopedic site on Delft. Research by Drs. Kees Kaldenbach (email). A full presentation is on view at johannesvermeer.info.
Launched 16 February 2001; Last update March 1, 2017.