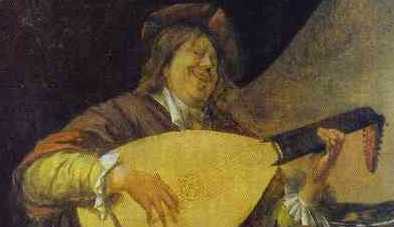 JS
Jan Steen (1625/26-1679). Genre painter, famous for paintings of rowdy and happy gatherings, indoors and outdoors.
Pupil of Nicolaes Knüpfer (c1603-1655) in Utrecht and Adriaen van Ostade (1610-1685) in Haarlem.
According to Houbraken he fell in love with Margaretha, the daughter of landscape painter Jan van Goyen, got her pregnant and presented this case to his and her father. May have worked in the workshop of Van Goyen. Van Goyen and Steen used to drink beer together at night, according to Houbraken.
His own father saw that he had no direct means of supporting her. In the fall of 1654 he found them a Delft brewery called De Roscam (The Curry comb) otherwise known as In de Slange (In the Snake) on Oude Delft number 74 in which he tried te be beer brewer. The art of beer brewing probably was no great economic success. The painting Burgher and his daughter shows a sidewalk opposite his house, on Oude Delft. Steen gave up brewing in 1657 and moved to Leiden.
Image above shows detail from a Self portrait with Lute, 1663-1665, 55,5 x 44 cm. Thyssen-Bornemisza coll., Madrid.
Note: Ett 1975, p. 61. Bok, Steen, 1996-1997, 29-30. Montias (1993) p. 157 doubts whether he actually lived in Delft. Arnold Houbraken, De groote Schouburgh der Nederlantsche Konstschilders en Schilderessen, The Hague 1752 [2nd ed.] Book 3, page 14. Note. E. Buysen, Haagse schilders in de Gouden Eeuw, Hoogsteder The Hague / Waanders Zwolle, 1998, p. 238.
This page forms part of a large encyclopedic site on Delft. Research by Drs. Kees Kaldenbach (email). A full presentation is on view at johannesvermeer.info.
Launched 16 February 2001; Last update March 1, 2017. More info in the RKD site.