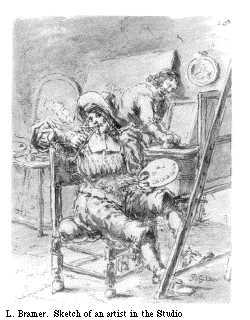 PS
Pieter Michielsz. Stael, alias de Hijger, (1575/76-1622). Landscape and history painter, from Maastricht. In Guild before 1613. Married 1599; owned house in Vlamingstraat 1605. Within some of his landscapes staffage was painted by Esaias van de Velde.
When his father went mad, he took over his bakery business. He lived on the east side of Vrouwjuttenland in De Twee Pelgrims (the Two Pilgrims) in 1599 and 1609. In 1612 and 1616 lived on Markt near the Town Hall. Between 1612-1615 he let property on Verwersdijk but in 1612, 1613. In 1624 his widow lived in the courtyard In den Asputh at Verwersdijk, a few houses north of Van der Mastenstraat.
Note: Bredius Künstler-Inventare V p. 1755 and VII p. 215. Death year from Soutendam Necrologium. p. 19. Alias 'de Hijger' refers to his wheezing. Internet archives show he married in 1599, and his child is baptized in 1632. On 28 December 1609 (NA 1761), he lived on Verwersdijk ; private communication by Montias, 2000 confirmed by GAD Beydals collection and Huizenprotocol II fol 586. During his lifetime and after his death he is indicated as baker. His father who went mad was Pieter Stael (c. 1575-1622) see Montias 1982, p. 334. Compare Jan Serange. RKD, Bredius archive, artist folder cites doc. 6 Dec. 1612 when he delivers a painting of Sodom and Gomorra and Summer and Winter landscapes (Not. Rijshouck). Also cites 26 Aug. 1615. Markt in Soutendam Necrologium p. 18.
This page forms part of a large encyclopedic site on Delft. Research by Drs. Kees Kaldenbach (email). A full presentation is on view at johannesvermeer.info.
Launched 16 February 2001; Last update March 1, 2017. More info in the RKD site.