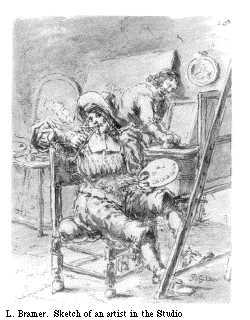 JS
Jan Spangaert [Spangiaert] / Jan Spanjaert (c. 1590-Before 1664). Genre painter, possibly the monogrammist I.S. In Guild in 1632.
Born in Amsterdam, moved to Delft and when he married in 1633 he bought a house on south side of Rietveld for 850 guilders. In 1637 he bought Het Gulden Hackmes (The Gilded Chopper / Meat Axe), south side of Rietveld; sold one of these houses for 400 guilders in 1650.
Additional information provided 2006 by Richard Keijzer: The latter house was used as an inn and was used with the name The Meat Axe in 1607. In 1633 Spanjaert married the widow of Warnij.
Note. Bredius Künstler-Inventare II 157 and VII p. 213. GAD Beydals collection. Internet-archive shows he remarried in 1632. Montias 1982, table A2. A namesake, Jan Spangiaert, tobacco salesman, lived in Bagijnhof; Huizenprotocol II 520. Spangaert bought a house for 850 f. in Jan.-June 1633. GAD, Camer van Charitate, Duijt op de gulden, no. 55, fol. 10vo. Private communication by Montias, 2000.
This page forms part of a large encyclopedic site on Delft. Research by Drs. Kees Kaldenbach (email). A full presentation is on view at johannesvermeer.info.
Launched 16 February 2001; Last update March 1, 2017. More info in the RKD site.