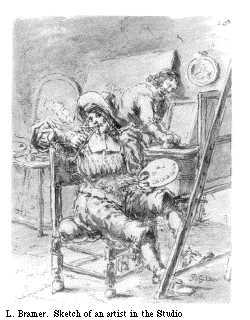 JS
Jan Serange (xx -1624). Seascape painter, art dealer.
In 1624 he died in a house in the courtyard named In den Asputh at Verwersdijk, a few houses north of Van der Mastenstraat.
In his inventory there were 367 engravings. Serange was also active in tulip growing. On Guild list as "Cernage".
After Serange's funeral the Guild members consumed half a barrel of beer, costing 3 guilders.
Note. GAD NA 1701 23 October 1624; private communication by Montias, 2000. Thieme-B. XXX p. 504. Amongst his inventory were paintings, materials related to tulip growing, civic guard arms. Bredius Kunstler-inventare III p. 948 and V p. 2232-2225. Compare Pieter Stael. Hans Jordaens received some clothes. Mentioned by Jaap van der Veen in 'De Delftse kunstmarkt in de tijd van Vermeer" in De Hollandse Samenleving in de tijd van Vermeer, Zwolle/The Hague 1996, note 18, p. 134.
This page forms part of a large encyclopedic site on Delft. Research by Drs. Kees Kaldenbach (email). A full presentation is on view at johannesvermeer.info.
Launched 16 February 2001; Last update March 1, 2017. More info in the RKD site.