PvR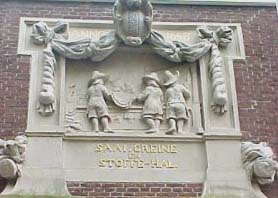 Pieter Rijckx (16xx-1704?). Sculptor. Became member of the Guild of St Luke in 1658. Sculpted and installed the sculpture above gate of Prinsenhof in 1658. In 1660 the town of Delft paid him 1672 guilders for delivering and carving the large stone ornaments above the gates of the Shooting Gallery (Doelen) and Anatomy Theatre at Doelenstraat / Doelenplein.
Around 1645 he also made the ornate plaque for the Saai-Greine en stoffenhal facing the Old Church, above the antrance to the hall that housed the only permitted sale room for the finest black twilled woolen cloth called 'saai' [in Dutch: gekeperde wollen stof]. This textile industry was mainly done on a small scale at home, especially by women. before 1645 the sale room was at Voldersgracht.
In 1661-1663 he collaborated in restoring the Town Hall. A "Pieter de Rijck" lived at West side of Voorstraat and died in 1704.
Note Huizenprotocol III 768. Exh Cat. De Stad Delft 1981, p. 213. Montias AA 1982 p. 186. GAD Internet files.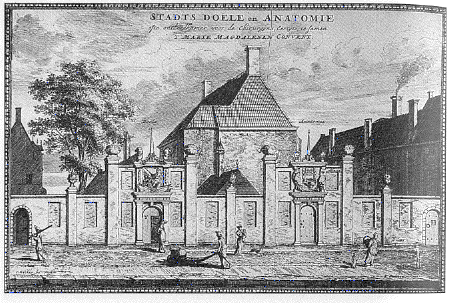 This page forms part of a large encyclopedic site on Delft. Research by Drs. Kees Kaldenbach (email). A full presentation is on view at johannesvermeer.info.
Launched 16 February 2001; Last update March 1, 2017. More info in the RKD site.