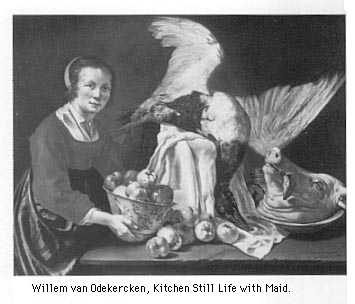 WvO
Willem Ghysbrechtsz van Odekercken (c. 1610-c.1678 or 1677?). Painter and housepainter-contractor. In Guild in 1643. Mentioned as a pupil in 1631. He also painted genre pieces and still lifes.
Also active as kladschilder (decorative painter). He painted banners and armor in 1672. In 1677 he was a Master of the 9th district Neighborhood Watch, and collaborated on the Kaart Figuratief map, crafted in 1675-1678.
In 1648 he lived on Verwersdijk; in 1641 he lived in De Vergulde Koevoet (the Gilded Crowbar) on Choorstraat around number 16. He rented and later bought a house on Voorstraat for 84 guilders a year. In 1655 he lived on the corner of Rietveld. In 1663 and 1678 he lived on the west side of Hippolytusbuurt or Wijnhaven. In 1678 a curator sold his abandoned house on the west side of Voorstraat for 900 guilders.
Note. Verwersdijk in Soutendam, Necrologium p. 25. Choorstraat in RKD, Bredius archive, artist folder, citing doc. 1640 as "Coestraat"; 1663 as west side of Hoogstraat is present day Hippolytusbuurt west side or Wijnhaven; 8 Apr. 1678 again as Hoogstraat. GAD Beydals collection gives years and mentions GAD Consentboek I 75-vo; Choorstraat, the 9th house from Voorstraat. All the paintings of the Rijksmuseum p.423 adds "active years" to these given years. GAD, NA 1845 mentioned in a private communication by Montias, 2000. Note. E. Buysen, Haagse schilders in de Gouden Eeuw, Hoogsteder The Hague / Waanders Zwolle, 1998, p. 334 mentions death year as 1677.
This page forms part of a large encyclopedic site on Delft. Research by Drs. Kees Kaldenbach (email). A full presentation is on view at johannesvermeer.info.
Launched 16 February 2001; Last update March 1, 2017. More info in the RKD site.