JM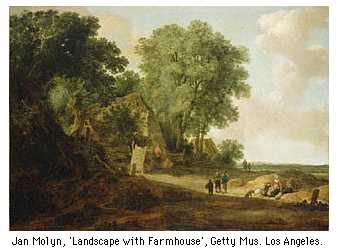 Jacob Molijn (c.1574-1649). Genre and still-life painter, also house painter. In Guild 1618. Painter- contractor working as 'town painter', being paid well by the town of Delft and earming a high income. He was also taxed highly at 12 guilders in 1649. In that year lived on Choorstraat. His son Jan Molijn (c. 1620-after 1688), in Guild in 1644, succeeded him as a house painter. For the 1663 job of ironwork painting in the New Church tower Jan Molijn was awarded the contract and was paid 158 guilders. A painter, 'Johannes Molijn' (identical to Jan?) rented a house in 1674 for 100 guilders.
To the right a Landscape with Farmhouse, 54 x 76.5 inch, Getty Museum, Los Angeles, CA.
Note. Soutendam, Necrologium, p. 10. Montias AA 1982, p. 115, 125, 126, 341, table A2. New Church in GAD Thes. Rek. 1663.
This page forms part of a large encyclopedic site on Delft. Research by Drs. Kees Kaldenbach (email). A full presentation is on view at johannesvermeer.info.
Launched 16 February 2009; Last update March 1, 2017. More info in the RKD site.