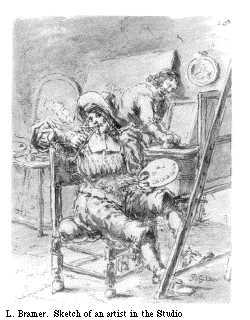 AvL
Andries Pietersz van der Linde (15?? - 1664). Landscape painter. Born outside Delft. Entered Guild 1631.
Between 1618-1664 he was pastor of the Lutheran church, which was a church accepted by the Dutch Reformed Church. In the 1650 guild list he is mentioned as number 23 as 'Hr' [Heer]. He lived on Lange Raamsteeg and Noordeinde, East side and "Op de Vest" (on the fortification), East of Haagpoort (Hague gate).
Note. GAD Huizenprotocol II 560. Thieme-B.____?. Paul H.M. Abels, 'Kerk en religie in het leven van Johannes Vermeer' in De Hollandse samenleving in de tijd van Vermeer, Den Haag/Zwolle 1996, p.72. Lange Raamsteeg in Huizenprotocol II 560; Noordeinde II 817-o ; "Op de Vest" III 973-o.
This page forms part of a large encyclopedic site on Delft. Research by Drs. Kees Kaldenbach (email). A full presentation is on view at johannesvermeer.info.
Launched 16 February 2009; Last update March 1, 2017. More info in the RKD site.