HJ1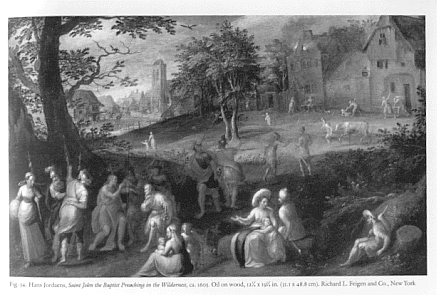 Hans Jordaens the Elder (before 1555/60-1630). Genre painter.
In Antwerp guild 1581, and in Delft Guild by 1587-88, producing paintings and making tapestry designs.
In Delft he became exceptionally successful. Montias noticed the high number of his paintings in Delft collections, at high prices.
He was deacon of the Lutheran church, which was considered an accepted church branch by the Dutch Reformed Church.
In 1605 he appraised the vast painting collection of tax collector Cornelis van Coolwijck.
He lived on Molslaan in 1597 and died on Choorstraat in 1630 leaving goods valued at 1250 and paintings valued at 1067 guilders.
In the Van Mander book on Dutch artists he is mentioned under the section on Frans Pourbus whose widow... "took as her second husband Hans Jordeans, pupil of Marten van Cleef". Jordaens is described as "an excellently good master as well in figures as in landscapes and histories, and also most spirited and ingenious at many different subjects..."
Note. Soutendam, Necrologium p. 7. Paul H.M. Abels, 'Kerk en religie in het leven van Johannes Vermeer' in De Hollandse samenleving in de tijd van Vermeer, Den Haag/Zwolle 1996, p.72. Estate in Montias AA 1982 p. 130. Van Mander : see exh. cat. Metropolitan Museum of Art, 'Vermeer and the Delft School', page 54.
This page forms part of a large encyclopedic site on Delft. Research by Drs. Kees Kaldenbach (email). A full presentation is on view at johannesvermeer.info.
Launched 16 February 2009; Last update March 1, 2017. More info in the RKD site.