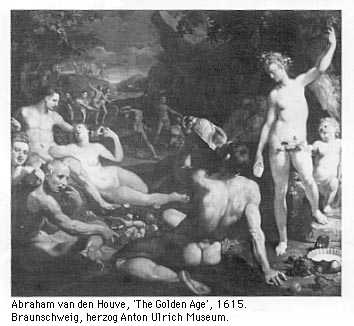 AH
Abraham van der Hoef / Abraham van der Hoeve / Abraham van der Houve (c.1576-1621). History painter and rich brewer.
Son of Aper Frans van der Hoef (brewer, major art collector, see below).
Studied art abroad, residing in Milan in 1600, living on his return on Annastraat. He became a Banner Bearer (ensign) in the Civic Guard.
Painted in the manner of Cornelis van Haarlem -whose works were well represented in Delft inventories- and after Palamedes Palamedesz.
Abraham owned a collection (or Museaeo) of painting, which included a lifesize Hercules by Jan Gossaert, and a collection of sculpture by Van Tetrode, fossils, and art objects. This collection was visited by Aernout van Buchell (c. 1595-1671) who noted it in his diary. A possible address for him is Markt.
His father Aper Frans van der Hoef was a brewer, major art collector, mentioned by Karel van Mander as a disciple of the Mannerist painter Floris who worked in Fontainebleau. In the 1590 Aper owned properties in Rijswijk (Huis Burchvliet), and in Voorburg where he had a country seat and another house called 'The Friesians'.
Note. Boitet 1729 p. 775. GAD Beydals cites that when he died on 15 feb. 1621 he was 45 years old. GAD digital archive shows that Abraham Arijesz van der Hoef died 15 February 1621 on Voorstraat. Annastraat in GAD Huizenprotocol III 805. Thieme-B. 1924, XVII, 187-188. Vital dates inferred from active years. Additional information by Walter Liedtke. Could father Abraham be identical to the painter 'Abraham' mentioned in Soutendam, Necrologium, p. 17 as living in 'Sint Agniete' in 1609? Or ibid, p. 21 as living in Marktveld in 1625? Montias 1981 p. 200, lists "Abram Jansz".
This page forms part of a large encyclopedic site on Delft. Research by Drs. Kees Kaldenbach (email). A full presentation is on view at johannesvermeer.info.
Launched 16 February 2009; Last update March 1, 2017. More info in the RKD site.