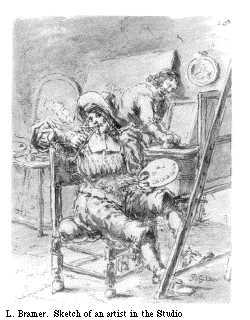 WH
Johannes de Haes [= identical to Jan Haels, 'vertrocken in 1650" ?] (16??-1666). Painter of landscapes, still life and "spokerijtjes" (ghost scenes?). As 'Haels' in Guild 1640. Lived at corner of Molenstraat and Verwersdijk, west side, present day number 101/103 in a house valued at 900 guilders and on Oude Delft. In his inventory were seascape paintings by Vosmaer, a pen drawing by H. Witmond and a painting by Van Asch. Finally a wooden cabinet with horn shells and other rarities which he "had kept for his pleasure".
Note. GAD Huizenprotocol II 651 and III 918. Bredius Künstler-inventare III 825-828. Montias 1981, p. 201. 'Kabinetje met hoorntjes en andere rariteiten, "dat de overledene tot sijn vermaeck heeft gehouden gehadt". Bredius cited in Jaap van der Veen, 'De verzamelaar in zijn kamer, Levensstijlen in Nederland' in Ons soort mensen, Levensstijlen in Nederland, Nijmegen 1997, p. 139.
This page forms part of a large encyclopedic site on Delft. Research by Drs. Kees Kaldenbach (email). A full presentation is on view at johannesvermeer.info.
Launched 16 February 2009; Last update March 1, 2017. More info in the RKD site.