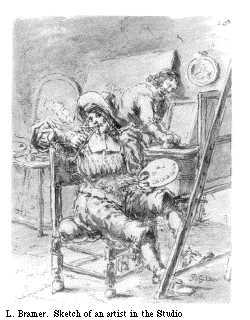 WD1
Jan Willemsz Decker (c. 1553-1632). History and lanscape painter, in Guild before 1613. .
Born in Gouda. Father of the painter Willem Jansz ? Address In de Haen (In the Cock) Oude Langendijk. Known to have sold his paintings at fairs as well. In 1632 his annual rent was 130 guilders.
Bredius once saw a panel painting of the 'Offering of Isaac' in a fantastic landscape, signed J.W. Decker.
Note. Montias 1981 p. 199. Floerke, Oud Holland X (1892) p. 193. GAD Beydals Coll. Note. General literature: Jan H. Oosterloo, De Meesters van Delft, Strengholt Amsterdam, 1948: 79.
This page forms part of a large encyclopedic site on Delft. Research by Drs. Kees Kaldenbach (email). A full presentation is on view at johannesvermeer.info.
Launched 16 February 2001; Last update March 1, 2017. More info in the RKD site.