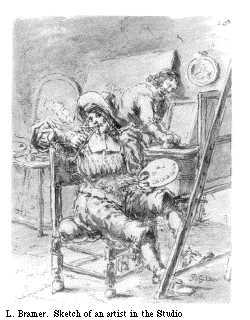 CvB
Claes Pietersz. van Bronckhorst / Bronchorst (1611-after 1655). Still life painter. In Guild in 1641; headman in 1655. In 1644 he bought a house for 1900 guilders behind the Nieuwe Kerk (New Church) probably located at Vrouwenrecht.
Note. RKD Bredius archive, artist folder, quoting 1644 house as being 1950 guilders, not 1900. GAD, NA 1726, 9 June 1644 from a private communication by Montias, 2000. Montias (1993) p. 192 calls him a mediocre painter. Saur vol. XIV p. 357. Obreen as "nr 94", entering between 1645-1638. Montias 1980, p. 186, table 7.1. mentions another Claes van Bronckhorst, still life painter, who got paid 150 guilders for a painting in 1622 by the town of Delft. This could be the Bronckhorst who was 67 in 1655, thus was born c. 1588.
This page forms part of a large encyclopedic site on Delft. Research by Drs. Kees Kaldenbach (email). A full presentation is on view at johannesvermeer.info.
Launched 16 February 2001; Last update March 1, 2017. More info in the RKD site.