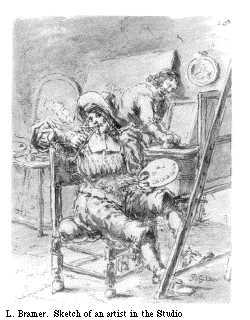 PvB
Pieter Anthonisz van Bronchorst / Bronckhorst (1588-1661). History and perspective painter, later church painter in a style which is related to that of Vredeman de Vries. He traveled to France.
Houbraken writes that he chose one of the hardest subjects in art, being perspectives of church interiors.
A painting of his was in the Town Hall.
In Guild 1613 or earlier, headman 1656.
In 1620 he bought a house on the north side of Vlamingstraat canal for 1450 guilders; still living there in 1624. Later he probably lived on Markt. Father of painter Claes van Bronchorst / Bronckhorst. In 1640 he was officer in a civic guard company.
He received 150 guilders for the Judgement of Salomo, formerly in the Town Hall, now in the Prinsenhof museum. This one is mentioned in Houbraken.
Note. Thieme-B. V, p. 58. RKD Bredius archive, artist folder, quoting Vlamingstraat, 3 Jan 1620 and 24 Dec. 1624 (burial of child) and quotes a testament on 17 May 1640, in which he is "Vaandrig" in the new company of "waardgelders" of Major Vosmaer. Bredius also quotes a Pieter Claes van Bronchorst, widower, who lived in De Vlouw at 3 Jan. 1626. General literature: Jan H. Oosterloo, De Meesters van Delft, Strengholt Amsterdam, 1948: 124.
Arnold Houbraken, De groote Schouburgh der Nederlantsche Konstschilders en Schilderessen, The Hague 1752 [2nd ed.] Book 1, page 136.
This page forms part of a large encyclopedic site on Delft. Research by Drs. Kees Kaldenbach (email). A full presentation is on view at johannesvermeer.info.
Launched 16 February 2005; Last update March 1, 2017. More info in the RKD site.