A collectible 1611 print available of a grand Entry of Henry II into Nancy (France). Full size, partly damaged. Good price.
Entree d'Henri II a Nancy en 1610.
Titre: L'ordre tenu au marcher parmy la ville de Nancy capitale de Lorraine à l'entrée en icelle du serenissime prince Henry II.e du nom par la grace de Dieu 64.e duc de Lorraine et 31.e marchis duc de Calabre, Bar, Gueldres, marquis du Pont-à-Monson, comte de Provence, Vaudemont, Blamont, Zutphen, etc. le XX apvril 1610, pour son duché de Lorraine :
[estampe] / Claudius de La Ruelle Inventor ; Mathaeus Meryan fecit ( Mathaeus Merian)
Gravee par F. Brentel, Matheus Meryan fecit.
Year 1611
17.6 x 49.7 cm

The print in my collection has lost its upper edge, lost some text, has holes and is thus in an imperfect state.
Strips att the back with old paper hold it together on the left hand 1/6th part.
See online Bibl Nat:
http://catalogue.bnf.fr/ark:/12148/cb43670325j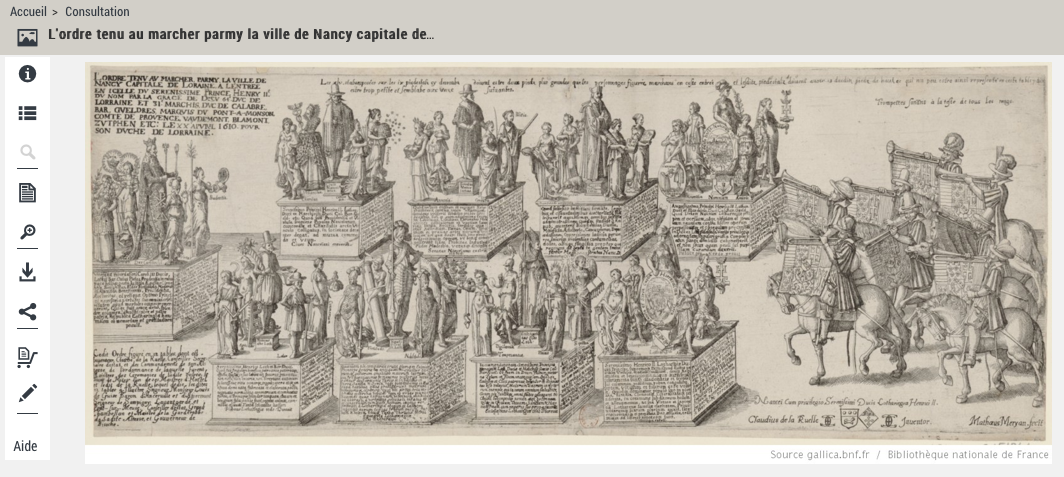 This is the state of the print I offer: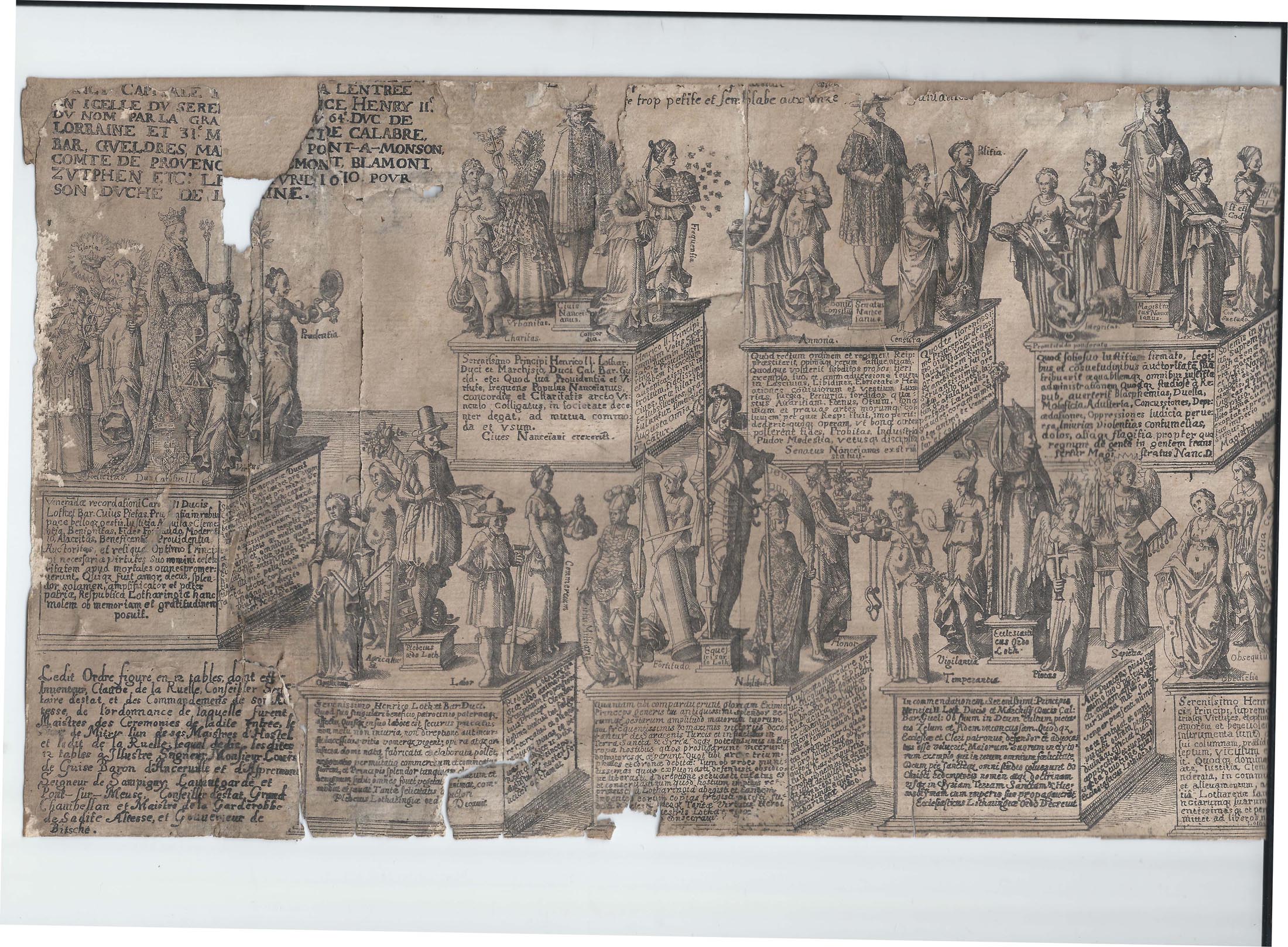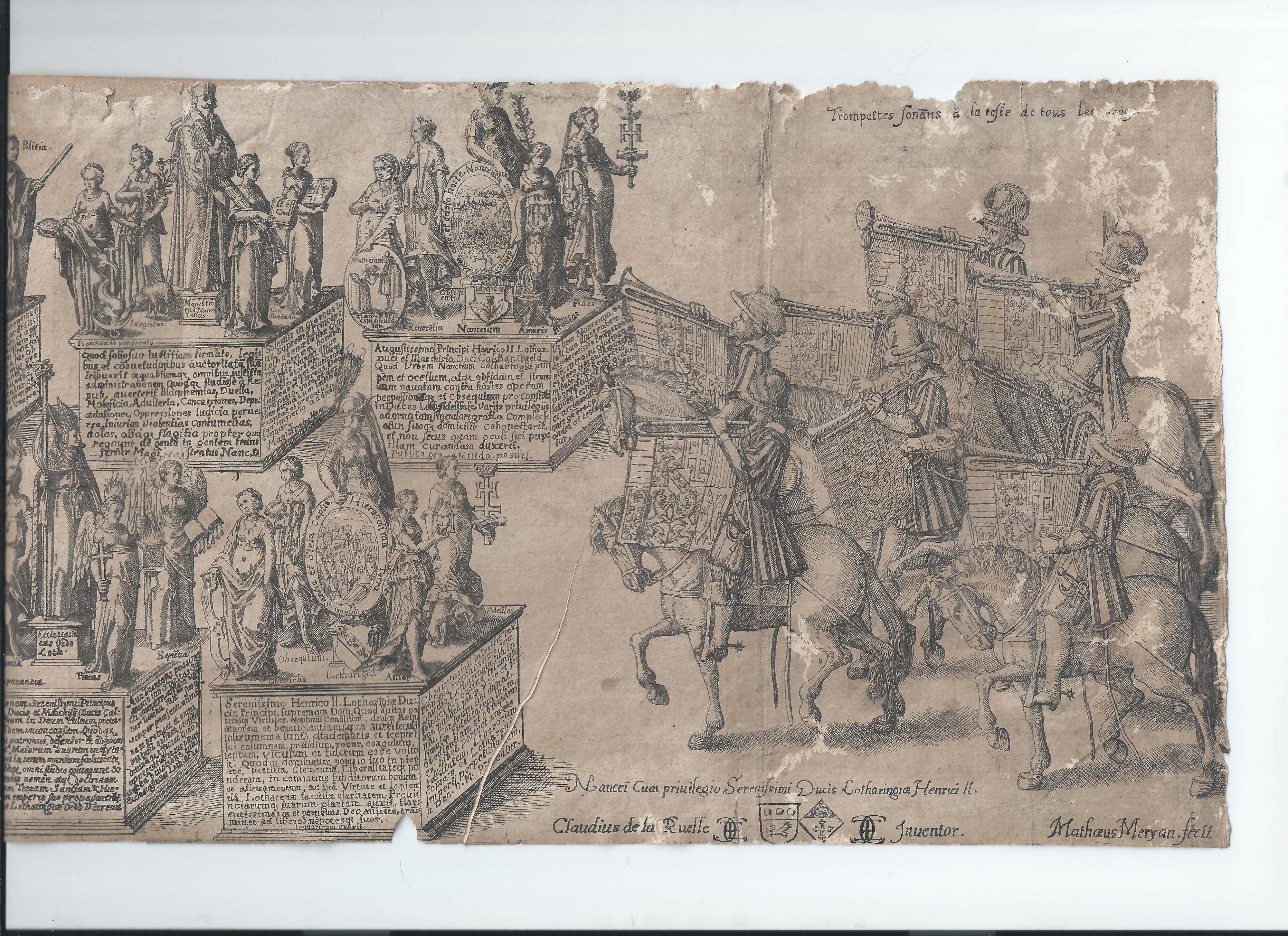 Valuable vintage photos 1890, 1923, 1952. vintage photographs.html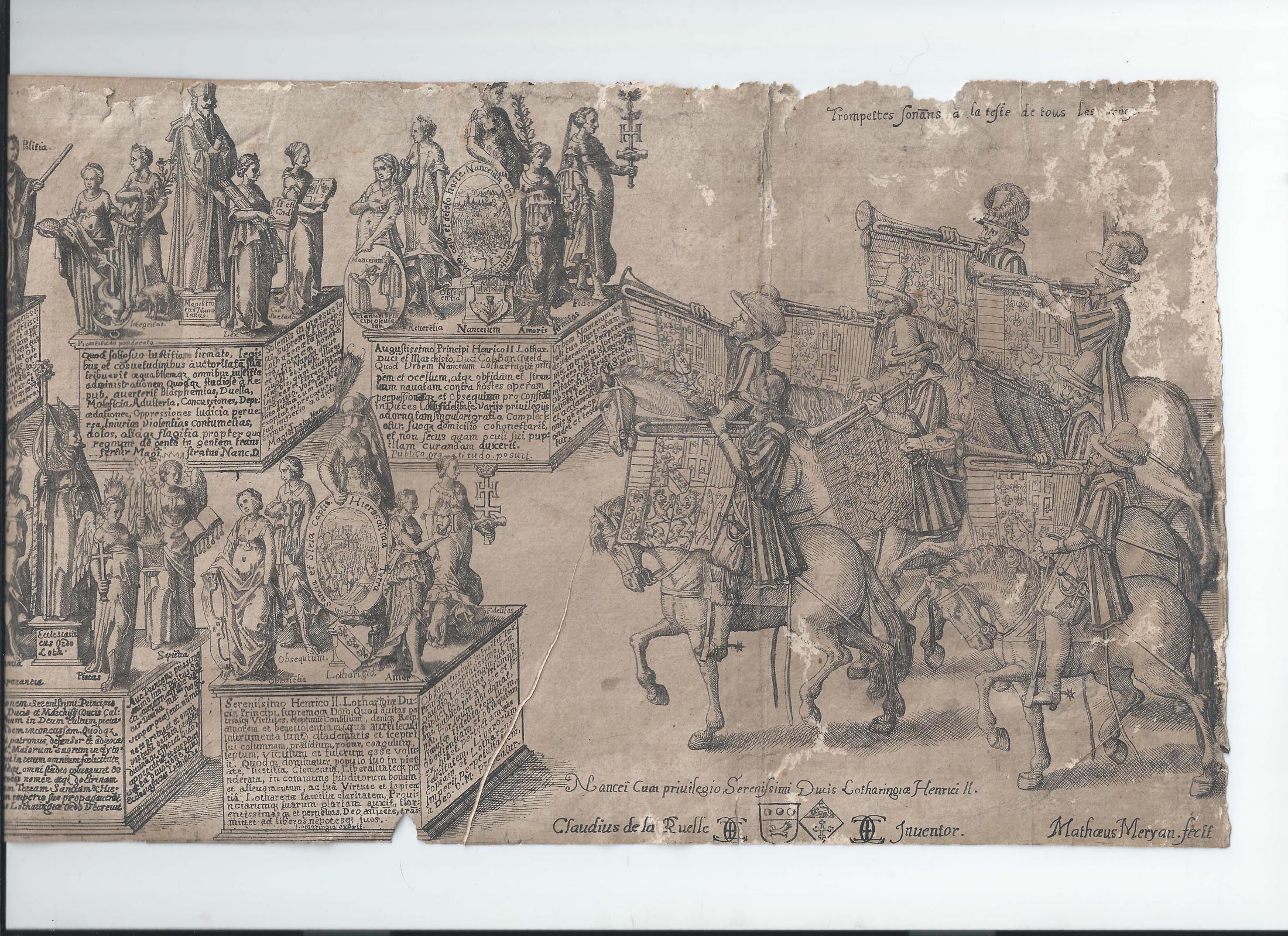 Other items for sale:
About 120 Chefs de l'oevre d'art (thin large French art books)
posters BP oil-industry.
========= atlassen =========
Atlas of Israel, machtig grote Israel atlas editie, gepubliceerd in delen van 1956-1964. Formaat 67 x 40 cm, inhoud is 4,5 cm dik. Veelkeurendruk van de hoogste kwaliteit. Verkeert in uitstekende staat. Een historisch document van de eerste orde. Israel. Zie 8 grote illustraties
F.W. Butzgers, Historischer Schul-Atlas zur Alteren, Mittleren und Neuen Geschichte in 324 Haupt-und nebenkarten. 40e Auflage, Velhagen & Klasing, Bielefeld und Leipzig, 1918. 26x18 cm. Redelijke staat, kaft bruin met waterschade.
========== overig ==========
Charles Barber, The English Language, a historical introduction, in the series cambridge approaches to Linguistics, Cambridge 1995.
Meyers Blitz Lexicon, die Schnellauskunft für jedermann in Wort und Bild, Bibliographisches Institut AG Leipzig, 1933. revidierter Neudruck. 760 p. 25 x 18 cm.
Lewis Copeland, The Handy Encyclopedia of Useful Information. The New Home Library, Blakiston, Philadelphia, USA., 1946. 21 x 14 cm.
Izis Bidermanas (fotograaf) Paris des Rêves. La Guide de Livre, Lausanne, 1950, met 45 'textes autographes'. Koperdiepdruk, in zeer goede staat. 28 x 22 cm. Kaft met boeklon plastic verstevigd. Niet verkleurd.
IZIS BIDERMANAS (fotograaf). Book title: ISRAEL . Tekst Andre Malraux. La Guide de Livre, Lausanne, 1955, Koperdiepdruk - the finest printing process ever invented - , in good state. 28 x 22 cm . Cover missing. LAUSANNE CLAIREFONTAINE 1955. vol 245, numbered 5153.

Ph. Howard, We thundered out, 200 years of the Times (London) 1785-1985. very large size. Reprints of full pages, often front pages. Hammond, New Jersey.
Milton, Paradise Lost, illustrated by Gustave Dore, notes by Robert Vaughan. New York, Feneton Collier. Large size, with embossed end boards and marbled openings. 311 pages + intro. Perhaps 1890 ?
H + P Massingham, The London Anhology, Phoenix London 1951.
Friso Endt, Weet je nog wel, 1900-1927, local history. Amsterdam, Bezige bij 1957, 1/3 is rotogravure b/w prints high quality.
Tot Lering en Vermaak, a very rare exh cat. on the meaning of 17th c Dutch paintings and the link with emblemata literature, Rijksmuseum, Amsterdam 1976.
Chefs-d'oevre de l'art / grands peintres. Series of large rather thin full color monographs on specific artists books. I own about 200 titles from the 1970's. A few titles appeared in the Italian series I Maestri del Colore.
York. Historic buildigs in the central area. Royal Commission on historical monuments, a photographic record, 1981. 200 plates each with a number of sub-ill.
Peter Goessel, Gabriele Leuthaeuser, L'Architecture du XXe Siecle, Benedikt Taschen, 1991, 432 pages. Full color. new.
Original japanese Hiroshige II prints
3 original Utagawa Yoshiiku Japanese prints, Nude women in Bath house
Kees Kaldenbach, email kalden@xs4all.nl
Drs. Kees Kaldenbach
Haarlemmermeerstraat 83 hs
1058 JS Amsterdam
===== tel. =====
tel 020 - 669 8119
cell 06 - 2868 9775
===============
===== telephone from abroad =====
tel 00-31-20 - 669 8119
cell phone 00-31-6 - 2868 9775
=========================
Update 7 february 2016
=========================