In the [upstairs] front room. Room L
Vermeers Studio.
Function of this room: Vermeer's painters' studio (atelier). As Vermeer was a fine art painter (fijnschilder), this room was kept as clean and dust free as possible. His Leyden colleague Dou is said to have entered his own workshop room and then sat still for a considerable time in order for dust to settle. The studio or atelier was often called 'schildercamer' or 'winkel' genoemd. (Henny 43).
Inventory: "Two Spanish chairs, twee spaense stoelen; A cane with an ivory knob on it [= Mahlstick ?] een rotting met een yvooren knop daer op; Two painter's easels, twee schilders eesels ; Three palettes, drye paletten; Six panels, 6 paneelen; Ten painter's canvases; tien schilderdoucken; Three bundies with all sorts of prints, drye bondels alrehande slach van printen; a high reading desk, een lessenaar ; Here and there some rummage not worthy of being itemized separately, voorts soo hier ende daer eenige rommeling niet waerdig om yder bysonder gestelt te worden."
An oak pull-out table with its table top, een eyken houte uyttreckende tafel met een blad daarop; A wooden cabinet with drawers, een hout kasie met laatgens.
See the original documents from the Delft Archives. Goods owned by Catharina Bolnes, page 1, page 2, page 3, page 4, page 5, page 6, page 7. Goods jointly owned by Catharina Bolnes and Maria Thins, page 1, page 2, page 3, page 4, page 5, page 6.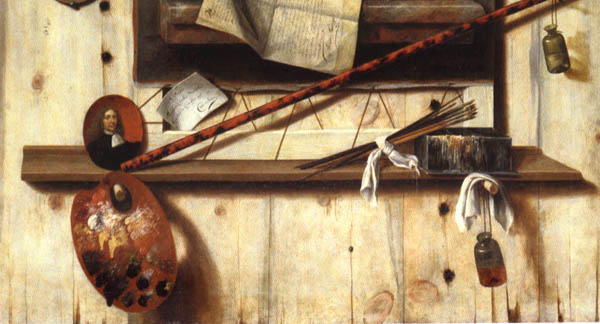 Note : These objects were part of the Vermeer-inventory as listed by by the assistant of Delft notary public J. van Veen on February 29, 1676, in the Thins/Vermeer home located on Oude Langendijk on the corner of Molenpoort. The painter Johannes Vermeer had died there at the end of December 1675. His widow Catherina and their eleven children still lived there with her mother Maria Thins.
The transcription of the 1676 inventory, now in the Delft archives, is based upon its first full publication by A.J.J.M. van Peer, "Drie collecties..." in Oud Holland, 1957, pp. 98-103. My additions and explanations are added in square brackets [__]. Dutch terms have been checked against the world's largest dictionary, the Dictionary of the Dutch Language (Woordenboek der Nederlandsche Taal , or WNT), which was begun by De Vries en Te Winkel in 1882.

2013 Hot Vermeer news we will discuss: vanityfair.com, article about Tim Jenison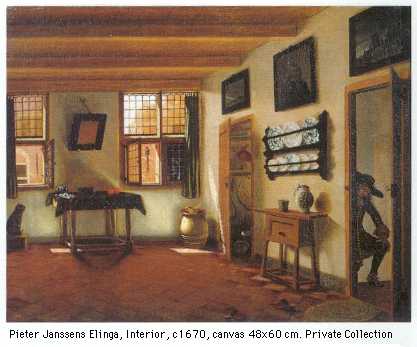 This interior view by Pieter Jansen Elinga of an Interior, c. 1670, shows an upstairs front room of a house. It has a floor of ceramic tiles and two windows. The entrance is towards the right. In Vermeer's house the stairs are placed differently in relation to the studio room. Vermeer studio room is also smaller than the one shown here. The ceiling beams probably ran from the window side towards us in stead of crosswise.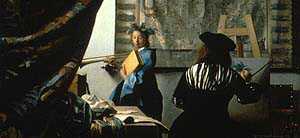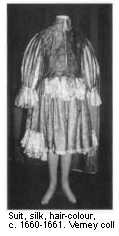 Note: See Marieke de Winkel, 'The Interpretation of Dress in Vermeer's Paintings' in Vermeer Studies, edited by Ivan Gaskell and Michiel Jonker, National Gallery of Art, Washington DC, 1998,327-339.
Henny, Xenia, 'Hoe kwamen de Roterdamse schilders aan hun verf? 't Hemelrijck, leverancier van schildersbenodigdheden' in Nora Schadee ( ed.) Rotterdamse Meesters uit de Gouden Eeuw, Historisch Museum Rotterdam, Waanders, Zwolle, 1994: 43-54.
This page forms part of a large encyclopedic site on Vermeer and Delft. Research by Drs. Kees Kaldenbach (email). A full presentation is on view at johannesvermeer.info.
Launched December, 2002; Last update March 1, 2017.
Back to the Welcome page: click Welcome.