Missing objects in the 1676 Inventory of household goods, noted in the rooms of Johannes Vermeer's home at Oude Langendijk canal, in Delft.
The following groups of objects are missing, or at least have not been properly written down in 1676 by or on behalf of the notary public.
Musical instruments: Within the group of musical instruments once owned by the son of Vermeer's step-grandfather, musician Claes Corstiaensz, were a lute, a trombone, a shawm ("schalmei", a precursor to the hobo), two violins and a cornetto. (see Montias, doc. no 270, 20 juli 1657). These instruments wound up being inherited by another branch of the family. Would it be possible that another group of instruments were inherited by Vermeer via Vermeer's father Reynier Jansz. Vermeer / Vos (ca. 1591-1652)?
Reynier Jansz was born on Beestenmarkt 14 in a house called Nassau, the son of the tailor Jan Reyersz. and Cornelia Goris (alias Neeltge Goris, who died in 1627). After Reyersz. died in 1597, Neeltge married Claes Corstiaensz, a professional musician who lived in De Drie Hamers (Three Hammers) on Beestenmarkt 26 on the corner of Grote Broerhuissteeg (now Broerhuisstraat).
Music became a recurrent theme in Vermeer's paintings. (Buijsen, 106-123) It is possible that some instruments first owned by his grandfather Claes, were inherited via Reynier and ended up in the home of Johannes Vermeer.
Chances are quite slim that a clavichord or harpsichord was played in the Vermeer home. At the time it was a tremendously expensive instrument. It is suggested that only a few existed in Delft, although actualy three of them were in the collection of the professional musician Scholl (see section in the yellow menu on Delft Artists & Patrons).

Garments: A number of garments are missing - which were once worn by Johannes Vermeer and by the female adults (mother in law Maria Thins and widow Catharina Bolnes) and the latter's children at the moment of taking inventory. One wonders about the blue satin pyjamas ("beddejak') of the 'Lady reading a Letter' in the Amsterdam Rijksmuseum. Also missing, are shoes and foot slippers. (Outside, foot slippers were sometimes worn over leather shoes in order to save on the wear and wear on shoe leather, resulting in an unseemly shuffling gait).
During the process of taking inventory, clothing and shoes which were worn at that moment by family members were obviously not counted. Clothing and shoes* were actually very expensive. Often lower class and lower middle class people owned only one set of clothes which they wore daily. However, on December 16, 1675 when the municipal charitable department (Camer van Charitate) tried to collect Vermeer's best outer garment ("beste opperste kleed") they had to note that it was 'not to be gotten' ("niet te halen" ; Montias 1989, p. 337, doc. 358). This is rather surprising, as it seems to point at a sudden poverty which was not mirrored in the 1676 inventory.
No mention at all is made of any of the hats worn by Vermeer. Hats were essential objects in the act of greeting one's social superiors or inferiors, outside and at home when guests were received. Neither do we find a chamber cap which was part of the 'japonse rock' chamber coat (see an example in Notary Public's office). Had these objects either been pawned or sold?
Also no Japanese style house coat is mentioned; it is quite likely Vermeer owned one, leading a sedentary life as a painter.
Table rugs (Persia style) and hanging curtain rugs. Not a single rug has been listed although many are scattered through Vermeer paintings and Vermeer's father was active as a caffa (silk satin weave) worker.
Geographical maps and globes. In Vermeer paintings we see numerous maps and globes, yet in the inventory there are none. For globes this is logical as they were costly. A matching pair of terrestial and heavenly globes by Joan Blaeu cost the equivalent of some 125 guilders, or 57 Euro's.
Chandelier. My gut feeling is that he never owned a chandelier such as shown in the Art of Painting.
Kitchen: among the regular kitchen utensils one misses everyday objects such as knives, scissors, glasses, cups, brushes, broom, scrubbing brushes, a market bucket, a salt vessel.
Where are the twenty-two porcelain cups owned by Vermeers father, and mentioned in the Dec. 8, 1623 inventory as being worth 8 guilders - perhaps a gift from Anthony, Reynier's brother who went to the East.
Vermeer's personal objects: missing are his shaving basin, shaving knife, possibly a pipe and a tobacco tin if he smoked.
Arm chair: we miss the arm chair was the throne-like seat for the master of the house. It was symbolic for his authority at home and a seat of honour for esteemed guests.
Great cabinet: we do not find a great cabinet which was normally used for the family's table and bed linen. Often acquired at the time of marriage, and symbolic for the householdly quality to which the mistress of the house would aspire.
Washkitchen: missing are a wash tub, wash basins and a water pitcher. Imagine the lost painting "In which a master washes his hands, in a perspective room, with human beings, artful and rare, by Vermeer" - sold for 95 guilders. ("Daer een Seigneur zijn handen wast, in een doorsiende kamer, met beelden, konstig en raer, van dito [=Vermeer], f 95-0." from the Amsterdam sale, 1695.).
Children's toys: Not many Dutch children owned fancy toys - the numbers of toys must have been meagre. See a discussion of children's toys.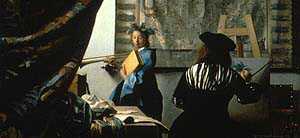 Paintings: the painting "The Art of Painting", which was kept in the widow's posession was ceded to Maria Thins by mens of a notary public two days before the inventory was taken. In other words, it was pushed out of reach of creditors. This may have been unlawful. (Montias 1989, 219)
Jewelry: We we do not see any jewelry or silver objects among the listed objects belonging to Maria Thins, who was well off - as she owned several parcels of lands. We also miss her luxury dresses. And where are the sewing boxes and the lacemaking gear?
Gilded jug: Missing is the gilded jug from the The Woman with a Jug in the Metropolitan, NYC.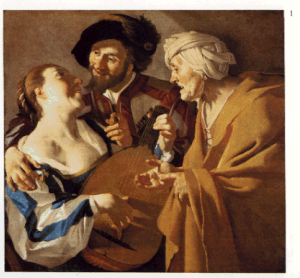 Trade stock of paintings: Because of an outstanding debt Vermeer's stock of paintings by other masters was kept apart from the inventory. Given the lay-out of the house this stock must have been in the attic. By the time of inventory taking the stock could have been actually moved to the debtor.
The luxury marble floor was an invention by vermeer, only to be seen in teh town hall. The chandelier was also copied from somewhere else.
To the right: Van Baburen, The Procuress, 101 x 107 cm, Boston, Museum of Fine Arts. This painting appears within The Music Lesson, Isabella Stewart Gardner Museum, Boston. It was once in the Vermeer collection.
In 'The Music Lesson', Boston, Isabella Stewart Gardner Museum, the painting at the left hand top may be recognized as "Hilly, Wooded Landscape" under nr 488 in Prof. Seymour Slive (Harvard) catalogue: "Jacob van Ruisdael- A Complete Catalogue of His Paintings, Drawings and Etchings"- Yale University Press, New Haven & London, 2001.
---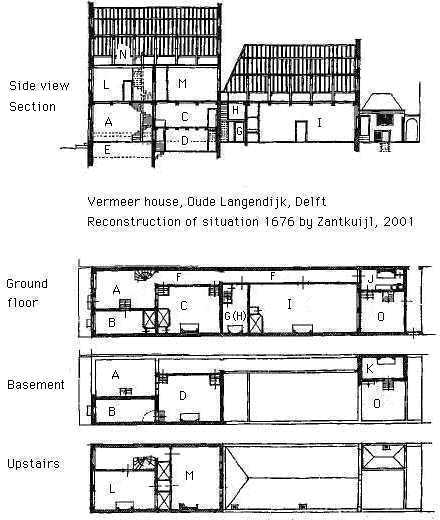 ---
Literature on musical instruments: Edwin Buijsen, 'Music in the age of Vermeer' in Dutch society in the age of Vermeer, Donald Haks and Marie Christine van der Sman (ed.) , The Hague Historical Museum and Waanders, Zwolle, p. 106-123.

This page forms part of a large encyclopedic site on Delft. Research by Drs. Kees Kaldenbach (email). A full presentation is on view at johannesvermeer.info.
Launched December, 2002; Last update March 1, 2017.
Back to the Welcome page: click Welcome.
Thanks to industrial engineer and web-wizard ir. Allan Kuiper for his wonderful navigator and 3D movies. Thanks to Brenda Kaldenbach for her assistance in editing.