Imagine the Interior - a Game
Unleash your full potential for creativity. Put a sketch pad and pencil on your table.
Choose one of the Vermeer rooms and read the text description of each item.
First make a quick pencil sketch and only then click on the object to see how your phantasy and our idea of Vermeer's reality are inches or miles apart.
Start off by identifying these objects (correct answers below):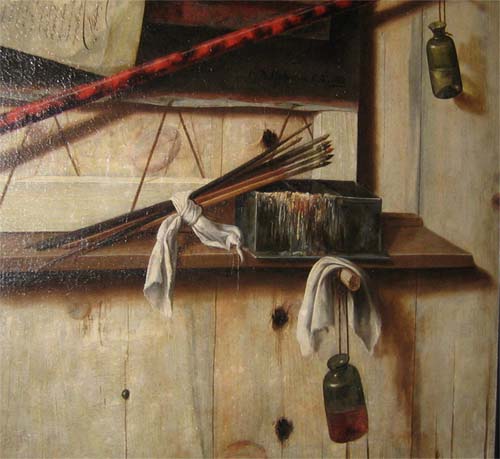 The answers are listed below.
x
x
x
x
x
x
x
x
x
x
ANSWERS:
Detail of a painting showing painters studio gear, a bundle of paint brushes, an open oil tin for cleaning brushes by dipping them in for a longer time. The paint then is released from the brush hairs and slowly sinks to the bottom. The hanging bottles may contain a siccative, that is a drying agent.
The ropes are there to string a canvas taut within a rectangular wooden frame. Painting by Cornelis Gijsbrechts, coll. Statens Museum for Kunst, Copenhagen.
---
This page forms part of a large encyclopedic site on Delft. Research by Drs. Kees Kaldenbach (email). A full presentation is on view at johannesvermeer.info.
Launched December, 2002; Last update March 1, 2017.
Back to the Welcome page: click Welcome.