Private tour of the three (3)
Calatrava bridges at
Haarlemmermeer polder, Holland
near Amsterdam airport and Hoofddorp
Subjects: High tech design, engineering, History, Art History and Modern Architecture in The Netherlands. Academic tour by scholar-lecturer, art historian Drs. Kees Kaldenbach*
Dutch/Nederlandse version.
The Spanish architect Santiago Calatrava (born Valencia, 1951) has built high-tech bridges and amazing, eye-catching spage-age white, shimmering buildings all over the world. Three of his marvelous works in Holland are bridges, which span a tiny canal, the Hoofdvaart (main canal) in the Haarlemmermeer polder (Haarlem lake polder).
These bridges have been built at excessive cost because the local town government wanted to make an expensive architectural splash to put this place on the world map. Upkeep of the structure, which was put into use in 2004 and has since required many fixes (including the shiny coating of paint) has cost many more millions of Euros later on. The LED lighting system at night is also amazing, responding to ambient natural light and changing light intensity as needed.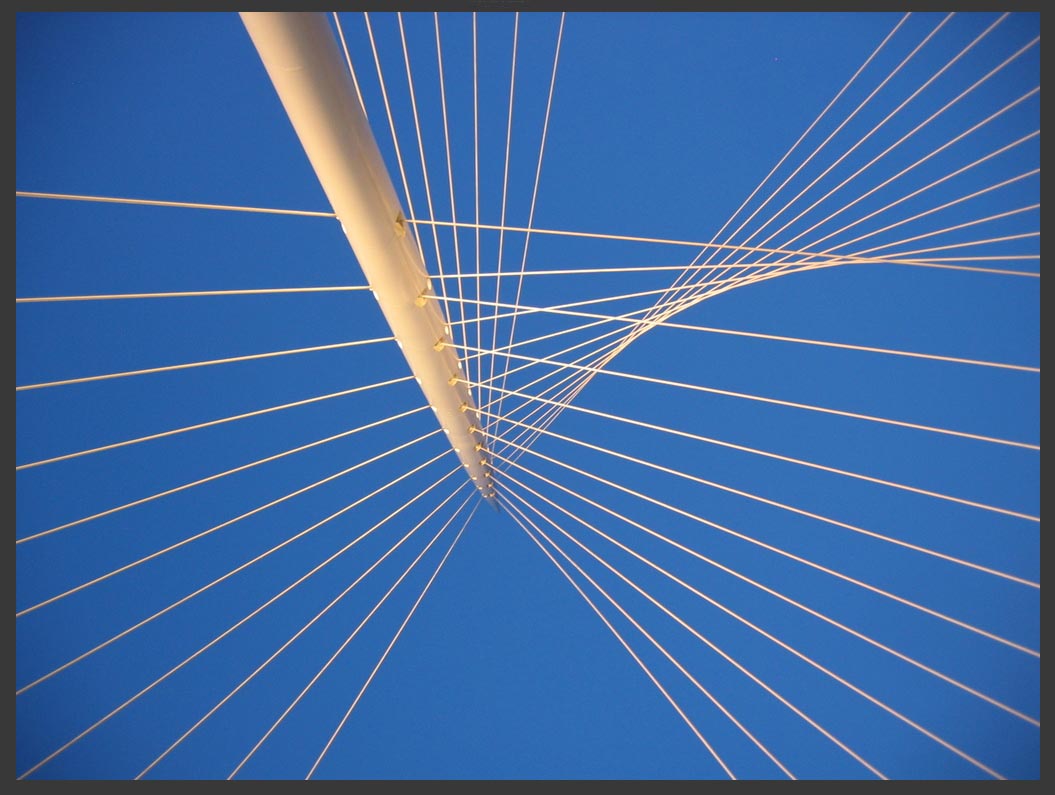 (Photo by Arie Vudetsjie)
The structure of the Haarlemmermeer polder (formerly a lake, now called Haarlem lake polder) is as flat as a pancake and exhibits perfect man-made polder geometry with ith smooth 90 degree angles of canals and road grids has been given a fascinating aethetic counterpoint in these three sleek high-tech cable-stayed bridges, their functional pylons placed at seemingly dangerous and interesting angles and their cables leading from the pylon down to the road surface radiate not just straight down, but in a complicated and dazzling fan shape.
The current Dutch adagium: "Why would one do it the difficult way if there is an easy way" seems to have been completely reversed here.
This canal forms the central axis of the Haarlemmermeer polder and on its two sides this canal has narrow parallel car roads, called Hoofdweg. This axis is also labeled N520. The three Calatrava bridges each cross the same tiny canal, which has been designed to drain water from the man made Haarlemmermeer polder dating from 1852.
From north to south the bridges have been given names of three musical instruments:
Lute / Luit bridge, at the same time a roundabout, at Maria Tesselschadelaan, closest to Hoofddorp. Building cost was 4 million Euro.
Lyre / Cither / Citer bridge, the middle bridge consists of a car bridge and an almost separate bicycle bridge located at at Nieuwe Bennebroekerweg. Building cost was 6 million Euro.
Harp bridge is situated at Noordelijke Randweg at the edge of the town Nieuw Vennep. Building cost was 9 million Euro.
After the delivery the bridges showed structural problems so that costly repairs became necessary.
See google images and google maps for more views.
I have studied the works of Calatrava in situ at his home town of Valencia, and in Bilbao, in Barcelona and other places - and obviously I studied literature.
This architectural tour starts either at Amsterdam centre or at Amsterdam airport Schiphol. We ride in my compact car, seating 3 passengers (or 1 in front, 3 tiny ones in the back). One way about 20 mins ride.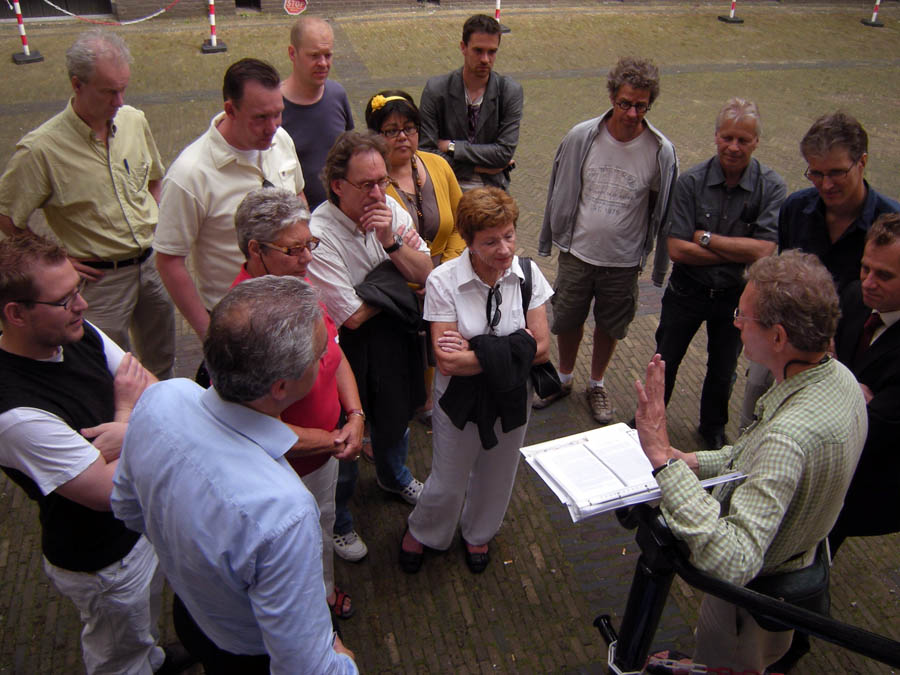 As an art historian based in Amsterdam, The Netherlands, I can meet you in Haarlem for a personalized guided tours of art museums and the historic center.

Together we will experience the beauty and history and we will visit enclosed courtyards, called 'hofjes' mostly for the benefit of the old age men and women.

Tip: combine with this tour with the 1850 (then) high tech Cruquius steam pump in the same polder, now boasting the largest piston in the entire world.

Canon of the history of Haarlem, close by.

Water engineering in the Beemster polder, UNESCO world heritage. Page in English

Enjoy yourself and learn about history while strolling and discussing the country's history, art and culture. In doing so, we may touch many bases - spanning not only fine art and architecture but also the city's history and current social issues. See client testimonials.

Read a biography.

Drs. Kaldenbach is chairman of the Circle of Academic Tour Guides of the Netherlands and Flanders (CATON)

Starting at your hotel I will take you on a wonderful private cultural walking tour of your choice. My guided itinerary offers you accessable informative conversation in English, Dutch, or German (my French and Italian are more limited).

---

You may also arrange this VIP treatment for business contacts or friends. Our cultural tour organisation office will take care of a unique and memorable experience.

Drs. Kees Kaldenbach is your private "scholar-lecturer on culture tours" *.

*Martha Gellhorn, Travels with Myself and another, p. 182.

---

Please contact me for time and fees of the tailor-made tour you ar interested in.

These tailor made tours are available upon request - please contact me to book a date. Minimum group size: 1 person. Maximum group size is limited to about 10 persons. With a megaphone I can also manage larger groups on the streets. In April 2007, I managed a 40 person tour by hiring knowledgeable speakers and overseeing the process.

---

Complete Listing of tours

Photo by Dick Martin.

Endorsements

The Rijksmuseum has done me the honor of linking the main Rijksmuseum site to my website. Start at www.rijksmuseum.nl and select Collection. Then choose 'Digital Collaboration' and the 'Digital Vermeer House'.

I conduct Rembrandt walks in Amsterdam for the Netherlands Bureau of Tourism, London and New York City offices. Their clients include important journalists.

The travel site www.luxurytraveler.com has devoted a main feature to my tours and walks.

Read further client testimonials.

---

---
About Drs. Kees Kaldenbach:
Read a biography.
Drs. Kees Kaldenbach has been featured in many television and radio documentaries, including CNN, BBC2 TV, NTV Japan, Danish TV, Dutch TV and Radio Netherlands World Service. In July 2004 he was interviewed about Haarlem artists by Tetsuya Tsuruhara for the leading Japanese newspaper The Yomiuri Shimbun. In 2004 and 2005 he acted in an advisory role to additional BBC teams. Kaldenbach has written extensively on Vermeer and 17th century Haarlem, on Vincent van Gogh and on other art history topics.
Drs. Kees Kaldenbach is your private "scholar-lecturer on culture tours".
Further information is available on his encyclopedic web site: www.johannesvermeer.info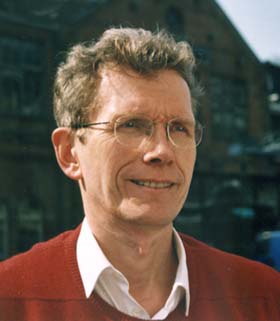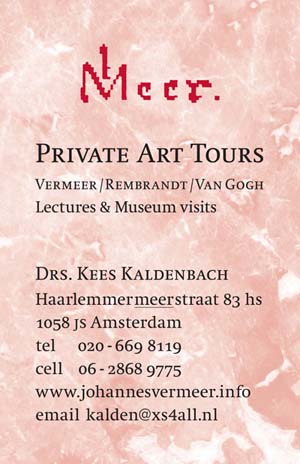 Contact information:
Drs. Kees Kaldenbach , kalden@xs4all.nl
Haarlemmermeerstraat 83 hs
1058 JS Amsterdam
The Netherlands
telephone 020 - 669 8119 (from abroad NL +20 - 669 8119)
cell phone 06 - 2868 9775 (from abroad NL +6 - 2868 9775)
Reaction, questions? Read client testimonials.

Open seven days a week.

Member of the VVV Tourist information and the Amsterdam Chamber of Commerce (Kamer van Koophandel).

Email responses and bookings to art historian Drs. Kees Kaldenbach.

This page forms part of the 2000+ item Vermeer web site at www.xs4all.nl/~kalden

Launched August 16, 2012. Updated Feb. 17, 2013.