Private tour of the architectural wonders of Hilversum, centre of Dutch radio and TV broadcasting. Great architecture.
Subjects: Museums, History, Art History and Architecture. Academic tour by scholar-lecturer, art historian Drs. Kees Kaldenbach*
Dutch/Nederlandse version.
Hilversum, in the province of North Holland, is situated 20 KM to the southeast of Amsterdam. I can take you there in my car seating 3 to 4 adults. Hilversum boasts good examples of town planning, neighborhoods full of villas, great school buildings and a fabulous town hall designed by Dudok (below).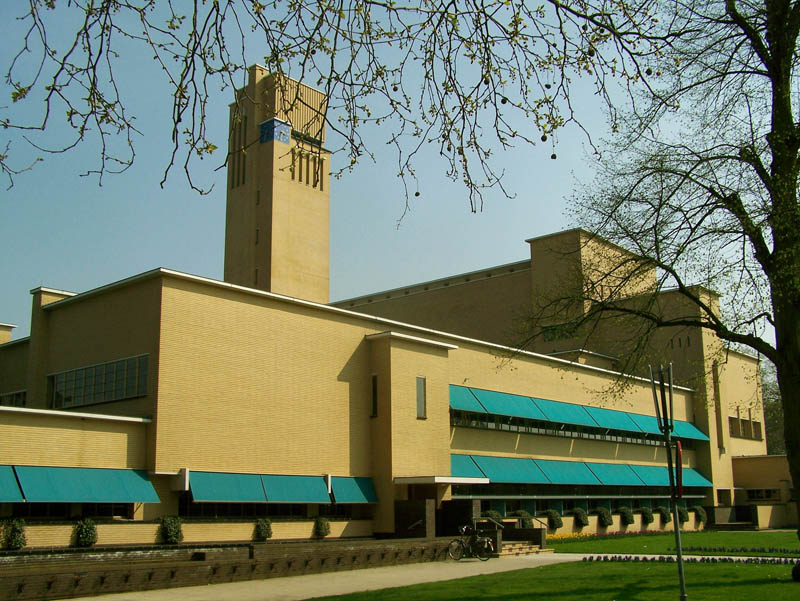 Above and below: Raadhuis, Town Hall, by Dudok, 1928-1931.
All photos below are copyright Kaldenbach.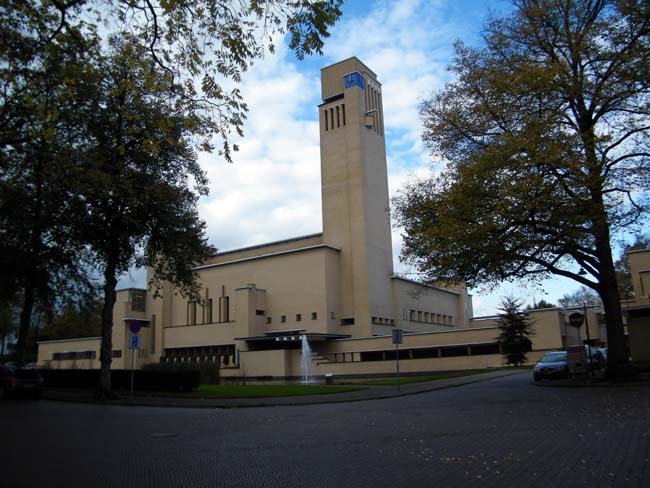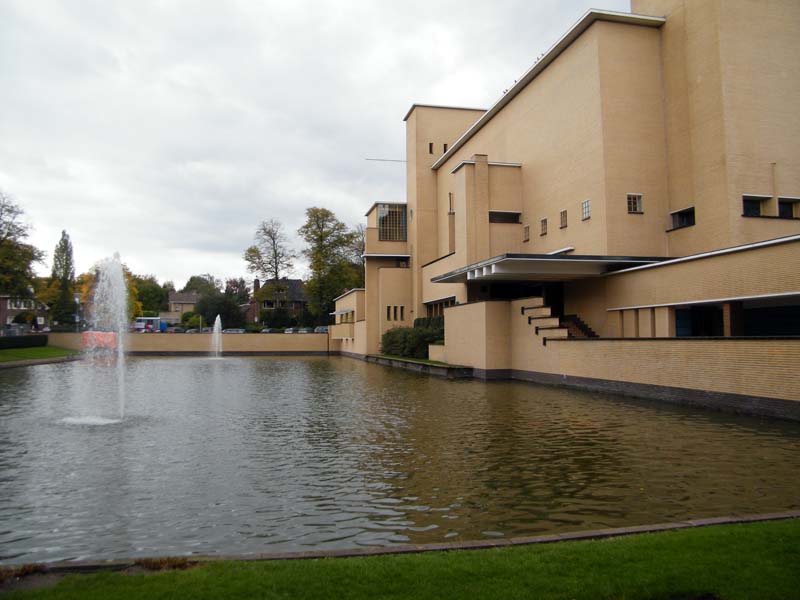 During a very costly renovation, each and every outside brick of this town hall has been replaced. The original yellow bricks from the IJssel river turned out not to be weatherproof.
Dudok, student of the famous architect Berlage, has worked here in Hilversum for many decades in the city planning office. His architectural imprint is all over. A dozen excellent school buildings are still around and the villa areas are also breathtaking.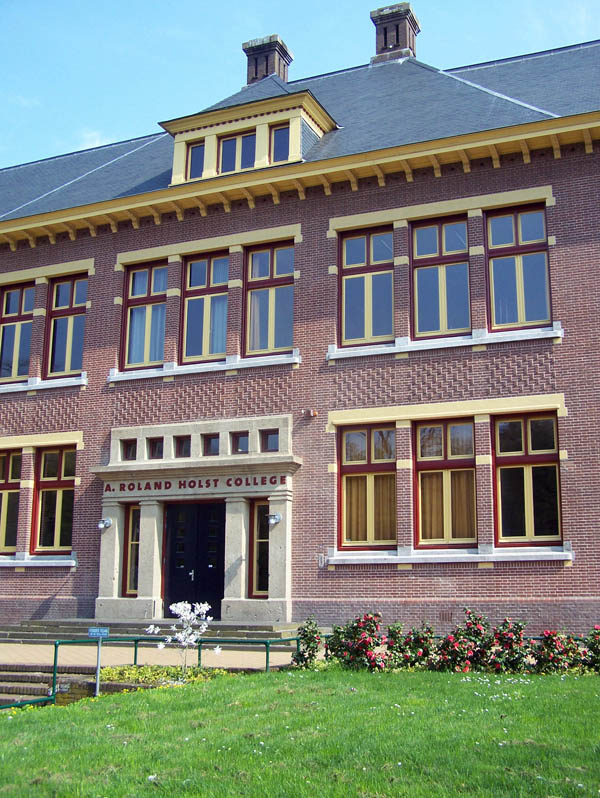 Earlier high quality architecture: A. Roland Holst College, Hilversum, Schuttersweg 38, by architect P. Andriessen, 1903.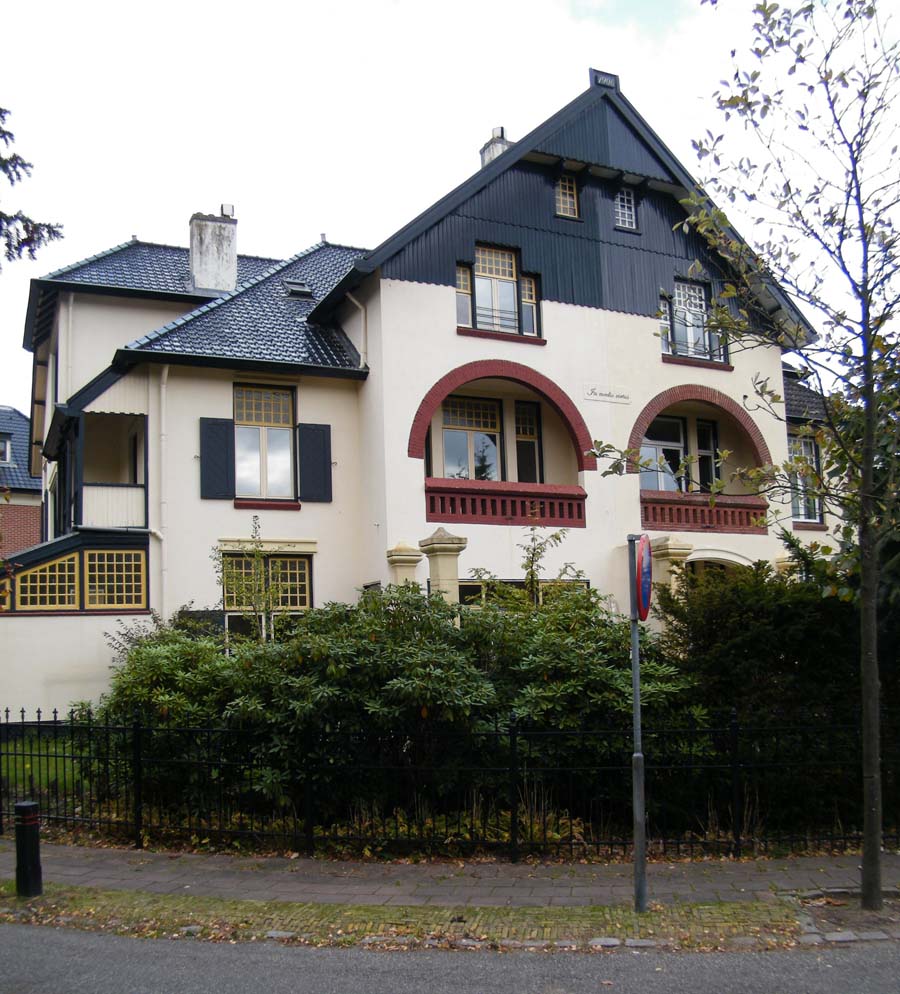 Villa "In media vertus", bij de Burgemeester van Hellenberg Hubarlaan. Example of stately homes built for wealthy owners, some of whom had returned rich from the Dutch Indies (Indonesia).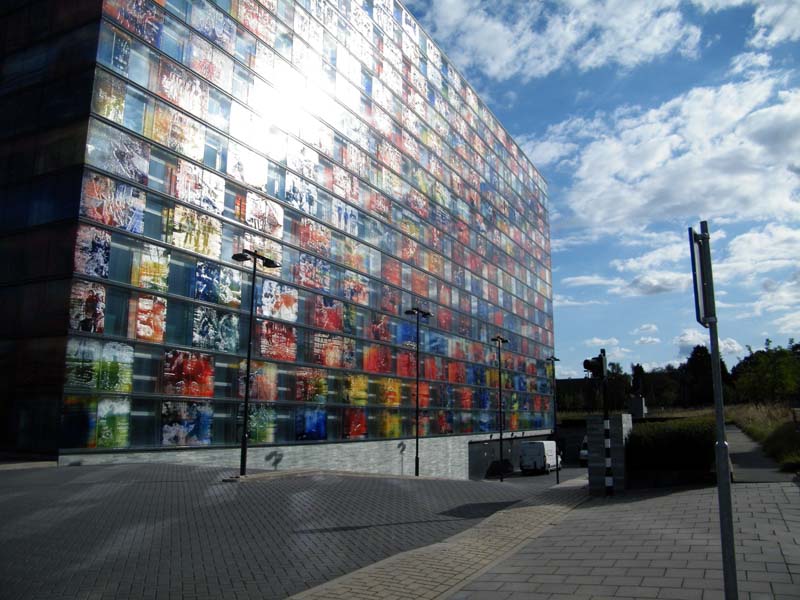 Instituut voor Beeld en Geluid (Institute for Audiovisuals). Stunning from the outside and inside. TV footage on demand.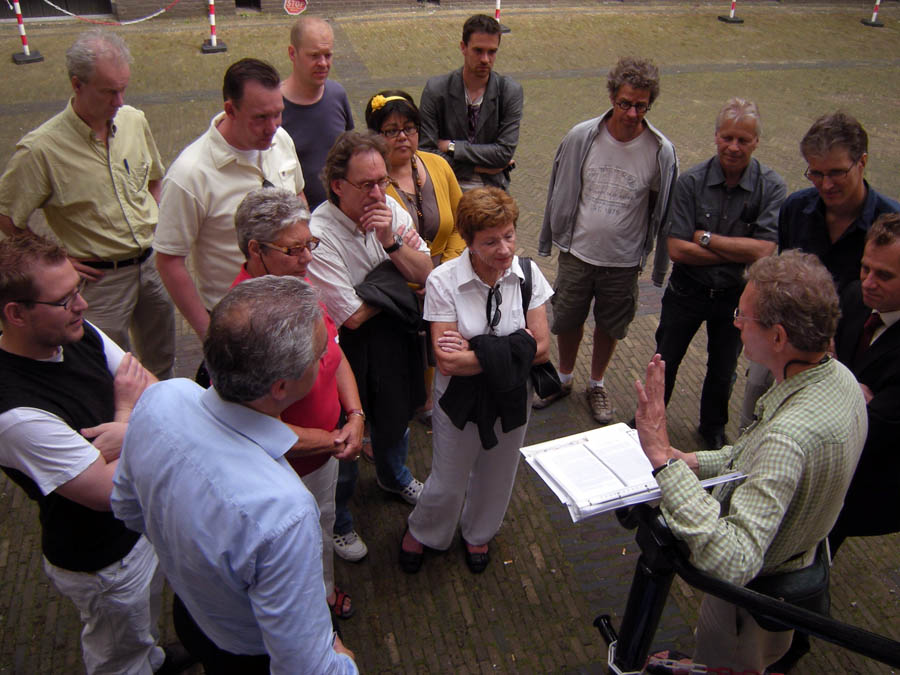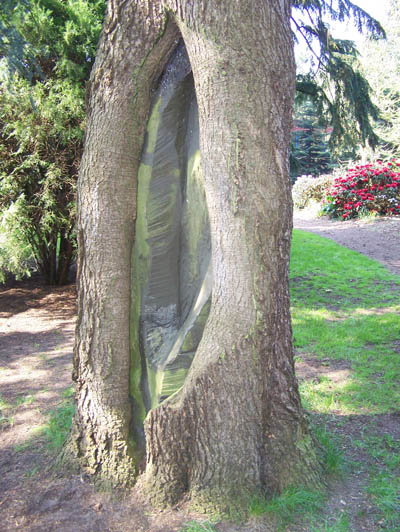 City walk can be combined with a visit to the aan het Pinetum, the secons modt important collection of pine trees in the world (the prime one is in Kew gardens, England). The Pinetum is open Fridays, Saturdays, Sundays.
Includes:
A Giant Redwood from California!
The biblical cedars of Lebanon.
My car seats 3 or 4 adults.
We can also visit the Broadcasting Museum.

As an art historian based in Amsterdam, The Netherlands, I can meet you in Hilversum for a personalized guided tours of art museums and the historic center.

Together we will experience the beauty and history and we will visit enclosed courtyards, called 'hofjes' mostly for the benefit of the old age men and women.

Canon of the history of Hilversum.

Enjoy yourself and learn about history while strolling and discussing the country's history, art and culture. In doing so, we may touch many bases - spanning not only fine art and architecture but also the city's history and current social issues. See client testimonials.

Read a biography.

Drs. Kaldenbach is chairman of the Circle of Academic Tour Guides of the Netherlands and Flanders (CATON)

Starting at your hotel I will take you on a wonderful private cultural walking tour of your choice. My guided itinerary offers you accessable informative conversation in English, Dutch, or German (my French and Italian are more limited).

---

You may also arrange this VIP treatment for business contacts or friends. Our cultural tour organisation office will take care of a unique and memorable experience.

Drs. Kees Kaldenbach is your private "scholar-lecturer on culture tours" *.

*Martha Gellhorn, Travels with Myself and another, p. 182.

---

Please contact me for time and fees of the tailor-made tour you ar interested in.

These tailor made tours are available upon request - please contact me to book a date. Minimum group size: 1 person. Maximum group size is limited to about 10 persons. With a megaphone I can also manage larger groups on the streets. In April 2007, I managed a 40 person tour by hiring knowledgeable speakers and overseeing the process.

Below: fossil room. It contains early fossil examples of the transformation of dinosaur-like creatures into feathered birds. Photo Copyright Teylers Museum, Hilversum.

---

Complete Listing of tours

Photo by Dick Martin.

Endorsements

The Rijksmuseum has done me the honor of linking the main Rijksmuseum site to my website.

I conduct Rembrandt walks in Amsterdam for the Netherlands Bureau of Tourism, London and New York City offices. Their clients include important journalists.

The travel site www.luxurytraveler.com has devoted a main feature to my tours and walks.

Read further client testimonials.

---

Below: fossil room. It contains early examples of scientific instruments in the Age of Enlightenment / the age of Reason. Making it an extremely early science museum. Photo Copyright Teylers Museum, Hilversum.

---
About Drs. Kees Kaldenbach:
Read a biography.
Drs. Kees Kaldenbach has been featured in many television and radio documentaries, including CNN, BBC2 TV, NTV Japan, Danish TV, Dutch TV and Radio Netherlands World Service. In July 2004 he was interviewed about Hilversum artists by Tetsuya Tsuruhara for the leading Japanese newspaper The Yomiuri Shimbun. In 2004 and 2005 he acted in an advisory role to additional BBC teams. Kaldenbach has written extensively on Vermeer and 17th century Hilversum, on Vincent van Gogh and on other art history topics.
Drs. Kees Kaldenbach is your private "scholar-lecturer on culture tours".
Further information is available on his encyclopedic web site: www.johannesvermeer.info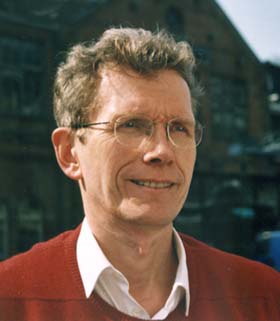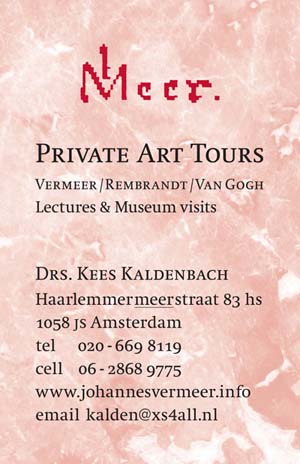 Contact information:
Drs. Kees Kaldenbach , kalden@xs4all.nl
Hilversummermeerstraat 83 hs
1058 JS Amsterdam
The Netherlands
telephone 020 - 669 8119 (from abroad NL +20 - 669 8119)
cell phone 06 - 2868 9775 (from abroad NL +6 - 2868 9775)
Reaction, questions? Read client testimonials.

Open seven days a week.

Member of the VVV Tourist information and the Amsterdam Chamber of Commerce (Kamer van Koophandel).

Email responses and bookings to art historian Drs. Kees Kaldenbach.

This page forms part of the 2000+ item Vermeer web site at www.xs4all.nl/~kalden

Launched April 15, 2006. Updated Feb. 17, 2013.

Lid van VVV Iris bon (acceptant van de Iris kadobon) en lid van de de Kamer van Koophandel. Lid van de Gouden Eeuw Cirkel in Amsterdam.