St Luke Guild building*
The Guild of St. Luke building on Voldersgracht number 21, formerly the Old Mens House, was remodeled and inaugurated in 1667. Mechelen's back side looked out upon its facade.
---
* A digital multimedia center experience about the work of Johannes Vermeer is in the making. If all goes well it will open in the spring of 2006 in this building in the historic town of Delft.
www.vermeerdelft.com in English
www.vermeerdelft.nl in Dutch / Nederlands
---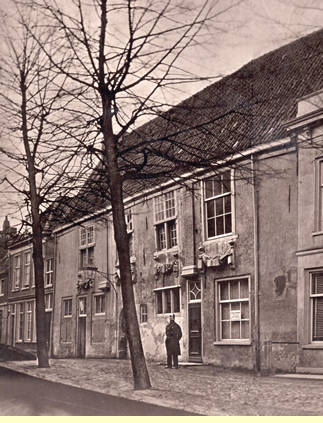 Description of the social structure: Inner workings
Read the full membership list.
Description of the actual physical interior:
The chimney on the large upstairs common room carried this inscription (according to Swillens 1950, p. 36):
Felicibus Auspiciis / Ampliss. coss. / D. Everhardi a Lodensteyn / D. Johannis Graswinckel / D Martini Paauw / D. Theodori van der Dussen / nec non / excos. nobil D. Theodori Meerman / Equitis, chormarchae agri delphici / collegii D. Lucae decani / locum hunc atrium nobilissimae picturae dicatum / aere collegii extrui et ornari c.c. / sex h.a. collegii praesides / C I >. D C. L X I (the > stands for a mirrored C ).
Within this building, Guild board members met for official business every 4 weeks on Monday at 5 o clock. Not turning up cost a fine of 24 stuivers.
See the list of Guild members and their "headman" leaders (yellow section, delft Artists & Patrons section).
New masters being tested for admission were let in and out of the building by the Dean who took 6 stuivers per day in cost. With their own tools the candidates had to make their Master piece. If the person tested (prouveling) did not pass the test then he had to wait a year and 6 weeks (according to Swillens 1950, p. 39)
This is what Van Bleyswijck, Author of History op Delft wrote in 1667 about the interior of this large upstairs room within this building in which the members met.
Opposite the open hearth stone mantlepiece (on which the names of the burgomasters of mayors were engraved) stood the [painting] of the President of the Guild and the six head men. The entire wall was covered with stretched linnen on which a triumphal arch was painted in perspective.
Then this quotation follows: "On the right hand side of the stone [=hearth ?] a section with this inscription is placed [a personification of] the 'Art of Painting', holding a panel and paintbrushes in her hand. On the left hand side is 'Proportion' or 'Symmetry in Architecture', holding a carpenter's square and compass in her hand, as well as a stonemason's hammer, indicating 'Sculpture'. Under their feet are hanging festoons made of various painters' implements, and next to it are steps to reach the space under the aforementioned Triumphal arch; under this arch one sees Mercury and Apollo standing face to face; one also sees two Busts at the corners of the parapet of the stairs: Zeuxis and Artemisia. All of this has been painted with love for the guild by Cornelis de Man; just as Leonard Bramer has painted the eight wooden ceiling vault coffers [? in Dutch: welsel] with the Seven Liberal Arts, adding the Art of Painting in the eighth." [translation by Kees Kaldenbach, 2002]
According to Swillens 1950, p. 36 the following verse was added on the Liberal Arts:
Gram. loquitur, Dia. vera docet, Rhe. verba colorat, / Mus. canit, Ar. numerat, Geo. ponderat, Ast. colit astra / Et liberales et serviles artes uno hoc disticho comprehenduntur: Lingua, Tropus, Ratio, Numerus, Tenor, Angulus, Astra, Rus, Nemus, Arma, Faber, Vulnera, Lana, Rates.
Chair makers and glass makers, not to be outdone, also contributed excellent products of their craft.
See the full text of the St Luke Guild books (yellow bar, Delft Artists and Patrons ; choose Obreen).
Swillens in his 1950 book pointed at the coats of arms of the former burgomaster Theodorus Meerman - Merman as opposed to mermaid - who helped refurbish the St Luke building (p. 35). See the Vermeer House inventory - Inner Kitchen - Gold tooled leather which contains an image of a double merman on top.
The building was demolished in 1876 when a town school was built on that spot - see aerial photo 1923. Another elementary school was built at that site since.
Architectural festoon ornaments salvaged from the ancient bulding are now in a wall in the south garden of the Rijksmuseum, Amsterdam, just above the large brass letters "RIJKSMUSEUM".


Note: Hale 1937, p. 19.
This page forms part of a large encyclopedic site on Delft. Research by Drs. Kees Kaldenbach (email). A full presentation is on view at johannesvermeer.info.
Launched 16 February 2005; Last update March 1, 2017. More info in the RKD site.
Top: Anonymous drawing, Washington, National Gallery of Art.
Mechelen inn was demolished and is now a vacant lot - see aerial photo 1923.