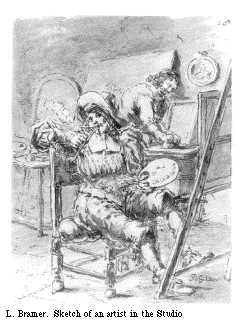 LJ
Ludolph de Jongh (1616-1679). Son of a shoe maker and inn keeper who had some money. Studied in Delft with Anthony Palamedesz according to Houbraken.
Was of influence to De Hooch who was 13 years younger. May he also have been his teacher?
Fashionable painter of portraits, strong on genre scenes, also made wall decorations, pastoral landscapes, some showing Diana, he made further career in Rotterdam.
From 1635-c.1642 he spent 7 years in France.
Note. Nora Schadee (ed.) Rotterdamse meesters in de Gouden Eeuw, Rotterdam Historisch Museum / Waanders, Zwolle1994: 284. Arnold Houbraken, De groote Schouburgh der Nederlantsche Konstschilders en Schilderessen, The Hague 1752 [2nd ed.] Book 2, page 33. Liedtke, 2001, page 132.
This page forms part of a large encyclopedic site on Delft. Research by Drs. Kees Kaldenbach (email). A full presentation is on view at johannesvermeer.info.
Launched 16 February 2009; Last update March 1, 2017. More info in the RKD site.