A fabulous full body massage - by Patricia (or 4 hand with Kees) in Amsterdam
Experience the finest bliss, healing touch and strong energy by Patricia in a beautiful massage session.
Go to the client reports on the Patricia & Kees massage.

Special massages

Read client reports

This is in English. Click for the Dutch version, Version Française.

Massage

Upon request the 30+ year old Patricia and masseur Kees will be delighted to give you a powerful session with a high quality four hands touch on your entire body. This four hand experience soars high above the events of daily life. It may best be compared with the effect of power touch, pearl dust, silk and the sprinkling of magical gold dust on the skin. Paradise on earth for those who can fully accept the miracle.

Patricia was born some 38+ years ago in The Netherlands. She is slender and is often whistled at in the streets. Sometimes this is welcome, but at other times it gets to be a bit too much for her. In massage land she has attended quite a few workshops and courses in order to further grow as a masseuse. Her special quality is in solving back and shoulder pain and addressing other pain problems

Clients experience and love her special quality of power, healing and acceptance.

Below a short example of Neck - Shoulder - Back massage, February, 2013.

4 hand massage with Alya

Go to the client reports on the Patricia & Kees massage.

We believe that touch is a great gift between human beings. Massage works by means of the quiet, healing power of human touch. Touch forms the most direct contact without words between one person and the next - and it influences the wellbeing not only of the skin itself, but of the entire person. Massage has miraculous healing powers.

The one who receives massage and the one who gives massage are not just concerned with a small part of the anatomy, just an arm or a leg or a back, but they bring with them their totality as a human being. During the massage, both the one who gives and the one who receives, stand at the outer limit of the skin - the most sensitive and largest human organ - and thus at the outer limit of the physical self. At its very best, the massage session forms a platform of bliss in a world sometimes full of stress and pressure. Massage is living in quality time. The release of energies and endorphins will make you feel good for a long time. Come discover this for yourself.

We do not do hotel calls. We work only in Kees' home. Or go to a hotel With Kees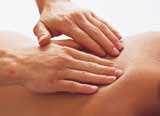 Being Quiet and Trusting
Giving and receiving massage takes place in inner calmness and concentration on the basis of serenity and trust.
The massage which we give is slow, strong and inventive; it may be called 'holistic' or 'intuitive'. It is applied with two full hands on the partner, and is aimed at relaxation and in the best of cases it may trigger - in the one who receives - an inner sensation of healing, flow, peace, serenity and bliss. It is quite allright to enjoy and the human mind may soar as well. Our motivation is in the pleasure of giving and receiving.
Structure of the Session

Initially the body may be fully covered with a cloth made out of the finest French linen. The client is free to choose to be covered or to be naked during the session.

We strive for a strong and good touch. Men may be completely unafraid of an erection coming up. A hard-on may just be there, and you can be there as a man without feeling anxiety or shame. There is no consequence for the quality of the session. However, we will be only there for body massage and not enter into erotic massage or sexuality.

You will be laying like a prince on the massage table. We will massage your body from top to bottom, first the back and then the front.

After the pulsing session which lasts a few minutes we will treat one body part at the time. We enjoy massaging these body parts: in a table massage the head, neck, shoulders, back and the sides, arms and hands ; upper chest ; ribs, stomach, buttocks (if you wish), legs and last but not least, both feet.

We also enjoy doing some pulsing and stretching. It is also possible to perform a quiet dance, in which the person who receives massage fully accepts the slow limb movements and relaxation.

Within a session of a good hour a choice is made by the client of the body parts mentioned above; this selection is geared both towards the situation and the needs of the one who gives and receives. Before starting we do appreciate a short talk and perhaps some loosening the muscles and grounding the body.

At the end of the session various parts of the body have been touched with energy and care; regaining the sense of unity of the body is reached by the repeated feathery light trace on the whole body of 'energizing finishing strokes'

Thus the whole session, includig a little talk beforehand, takes about a hour and a half to almost two hours. Patricia also works with Nina, or Alya (photo on the left).

Go to the client reports on the Patricia & Kees massage.

4 hand massage with Alya
Patricia: "I have worked for many years as a masseuse and beautician in a beauty salons. I did lots of massage sessions at venues such as Dance Valley, an during company & personnel parties. I studied chair massage at Touch Pro, and pressure point massage but much prefer body massage. In it I combine many different strands of massage, all focused at that one client. You may actually wake me up for thet in the middle of the night. ! The beauty of 4 hand massage is that one becomes unaware which hand is touching where. It is gliding into oblivion."
Kees: I experience massage as an act of contact. Massage is my passion and I have specialized in Holistic Massage, Tantra and Biodanza. I do speak Dutch, English, German and also some French and Italian and I have studied at the Amsterdam Free University (Vrije Universiteit); hence the title is Drs.
Lichaam & Ziel [Body & Soul] is my company name; I can receive at my home or at my beauty salon at Leidseplein, Amsterdam. Alternatively I could visit you in the Amsterdam area; then I will pack my table and drive to your place, taking my professional massage table and my suitcase full of goodies.




You may call or mail me for finding out prices and dates.
A client introducing a new client will recive a E 10,- bonus.
Times of the session: we are open 7 days a week so a session is possible on many days and nights. We will compare our agendas / notebooks to set the right date!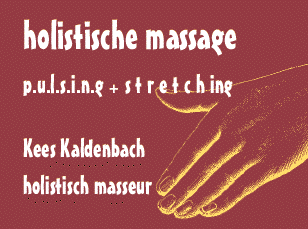 Go to the Chair massage
Read a client report.
Give a massage gift certificate
Go to the Dutch version.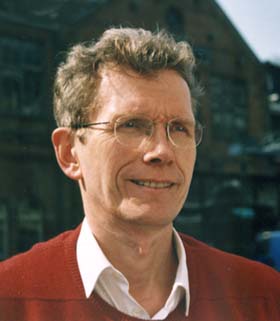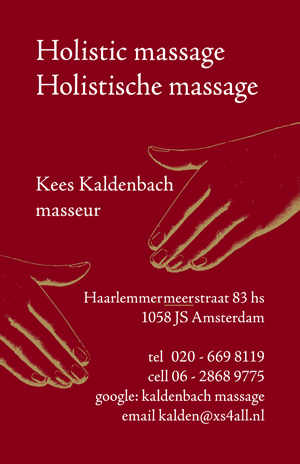 Reaction, questions?
Center for Applied Massage Art - Kees Kaldenbach, kalden@xs4all.nl. Haarlemmermeerstraat 83 hs, 1058 JS Amsterdam (near Surinameplein, ring road exit s-106, tram 1 and 17). Telephone 020 669 8119; cell phone 06 - 2868 9775. Open seven days a week.
Masseur Kees Kaldenbach is collaborating with a number of masseurs and masseuses in Amsterdam. He is also active as a masseur in the finest and most luxurious hotels.
I give this massage at various addresses: at my home address (see above), or at your own home or at your hotel.
Lichaam & Ziel [Body & Soul] is registered at the Amsterdam Chamber of Commerce, number 3419 6612.
See Akademie voor Massage en Beweging www.akademie.nl and a certificate.






--- === --- news flash --- === --- 0 --- === --- news flash --- === ---
Psychological Bulletin, January 2004 highlights
MASSAGE THERAPIY AGAINST DEPRESSION
Psychologists at Illinois University have researched effectiveness of massage therapy. A series of visits to the masseur may reduce depression, anxiety and pain. Even single visits may help alleviating anxiety and pain and may reduce hypertension and a high heart rate.
Psychological Bulletin, January 2004