Lesbian and Gay Massage in Amsterdam!
Receive a paradise massage
in one of the Gay capitals of the world...
by a world class masseuse / masseur
A warm welcome
to all lesbian, gay,
and transsexual clients
Below a short example of Carezza massage, January, 2013.
Below a short example of Neck - Shoulder - Back massage, January, 2013.
Menu of Special massages

Read client reports

Give a massage gift certificate

This is in English. Click for an Dutch version

New in November 2012: Presenting a ground breaking and "terrifically exciting" 11,000 word article on MASSAGE & SEXUALITY, published on November 3, 2012 in a Sexuology yearbook - on the internationally controversial topic of Massage & Sexuality. Book title: "Human Sexuality and Intimate Relationships from an Integral, Transpersonal and Somatic (Sexological) Perspective" Edited by Dr Tara Long.

Photos: Jeroen Leclercq, www.hollandfoto.com.

Lesbian and gay massage

My basic energy is that of a heterosexual. Yet in my massage practice I receive a fair number of clients who are lesbian, gay or transsexual as I am capable of opening up myself as a human being and to open my heart for these clients and to convey the deep feeling that they are totally welcome. Accepting the totally perfect physical way they are.

In the mid nineteen seventies the Dutch gay writer Gerard Reve was my big literary hero and during those years one of my brothers and also a close school friend came 'out of the closet'. I have witnessed their process from near by and have become an active advocat of openness and freedom to fully unfold ones inner promises and become one with one's sexual nature. Sometimes it takes half a lifetime for people to express on the outside what they really are on the inside.

In my massage practice I have also welcomed a fair number of lesbian couples, of whom one of the partners was massaged while the other just looked on sitting on the couch. More than once the woman sitting and watching became quite surprised at the fullness and depth of the process within her girlfriend. I am always very aware of my role as masseur and I will ask for permissions (to touch the buttock and breast area) so that during the massage everyone knows what is about to happen and feels control over the process and the power of touch.

In 2008, a lesbian couple came in from Turin, Italy. They had found me on the Internet while researching Amsterdam, and decided to take a session. They told me the fire had gone away from their relationship. They asked me to bring in the male power of fire into the massage. I massaged the first while the partner went out for a long walk. Then the other. A memorable event!

2008-1009. A number of lesbian ladies from Amsterdam University came by for a session. And returned.

Summer 2011. Jenny stayed in the luxury Grand hotel, Amsterdam. During the daytime she followed a top level course in IT. At night she felt a bit scared to enter the lesbian night life. By requesting a male masseur she felt she would stay true to the vows to her partner in life. She googled around and read and trusted this web site. Later on she wrote to me: "Dear Kees, The massage was great, and really helped me to remove the tension and unwind. Also conversation with you was easy, which made me feel at ease with you straight away. When I am next in Amsterdam I will be sure to look you up! Many thanks Jenny".

As a masseur I also receive gay men who may totally be here in their way of being. My touch has a fullness and warmth, but the meeting will not turn into a sex party. An erection is no problem but a 'happy end' (as in the movie Azuloscuro) is not on the menu right here.

I also welcome transsexuals in my practice (from woman to man and from man to women).

Below a short example of massage by Maryan - Neck - Shoulder - Back massage, February, 2013.

Why Gay and lesbian massage in Amsterdam ?


Gays and lesbians in the Netherlands may experience more stressful moments than the average straight man or woman, and gays may meet land in more situations that can turn ugly: tensions in the workplace or on the street, harassment, being called names, shouted at, spit on, or threats and actual physical blows and kicks. It almost turns the stomach!


Massage is not a patch for all wounds, but it can sometimes help to compensate and control stress, on some level, either physically, mentally and spiritually.
Physically: addressing the muscles, tendons and other tissues; the blood flows again and the body invigorates.
Spiritually, that is to be totally seen and feel accepted in one's own nature by a masseur who is open-minded.
Spiritually: that is to feel oneself deeply lifted by the universe, as a child of the cosmos.


For massage is not just a little rubbing and shaking of body parts: the receiver and the giver of massage are not involved with just a part of the body involved - a leg or an arm or back - but they are in contact with the totality. This totality includes all the feelings and experiences of body and soul from the past and present. During massage the one who gives massage meets the one who receives massage at the boundaries of their own skin - the most sensitive and largest human organ - and therefore at the limits of his body. The massage session is at best a heavenly plateau of quality in a busy world. Massage is quality time.
The spiritual is an additional gift that one may receive as a gift when one is lucky - this blessed state does not just happen to arrive when yearned for. It arrives when it is ready.


Experiences on the massage table
A couple of experiences in gay massage gained by the undersigned, a straight massage therapist:
Attracted by my home page (adorned with gay flags) many gay men come here who DO want a guy as a masseur but do not want to be focused on the cock or cum. They know beforehand that the attention and energy is different, flows in wider streams. That experience will be more even, wider spread.
These gay men want (it seems) no fast-techno-mechanical sports massage at an arms-length distance, but a soulful "close" slow food session of one hour and fifteen minutes or more. Full body massage, full of touch, really being accepted, to be seen and to be nurtured. And sometimes a massage table even turns into a "confessional", where tender moments and secrets may come up.


Most amazing I find my experiences with some lesbian clients come to my practice - or whom I visit in their hotel room. Some have told me that receiving a regular massage would have the feel of "adultery" if it were given by a masseuse or (worse!) by a lesbian masseuse.
The difference in sexual orientation creates a natural divide. So that in touch the attention and energy flows slightly different.


Of late, the strangest event took place in a luxury hotel: the senior lesbian, who ordered and paid for the session, she remained in silence during the entire session and with great interest she observed from her bed how her junior lesbian girlfriend received the full body massage. Miracles never cease.

Massage

I believe that touch is a great gift between human beings. Massage works by means of the quiet, healing power of human touch. Touch forms the most direct contact without words between one person and the next - and it influences the well being not only of the skin itself, but of the entire person. Massage has miraculous healing powers.

The one who receives massage and the one who gives massage are not just concerned with a small part of the anatomy, just an arm or a leg or a back, but they bring with them their totality as a human being. During the massage, both the one who gives and the one who receives, stand at the outer limit of the skin - the most sensitive and largest human organ - and thus at the outer limit of the physical self. At its very best, the massage session forms a platform of bliss in a world sometimes full of stress and pressure. Massage is living in quality time. The release of energies and endorphins will make you feel good for a long time. Come discover this for yourself.
Being Quiet and Trusting
Giving and receiving massage takes place in inner calmness and concentration on the basis of serenity and trust.
The massage which I give is slow ; it is called 'holistic' or 'intuitive'. It is applied with two full hands on the partner, and is aimed at relaxation and in the best of cases it may trigger - in the one who receives - an inner sensation of flow, peace, serenity and bliss. It is quite allright to enjoy and the human mind may soar as well. My motivation is in the pleasure of giving and receiving.
Structure of a Session

Initially the body is fully covered with a cloth made out of the finest French linen. After the pulsing session which lasts a few minutes I will uncover one body part at the time. I have learned to massage these body parts: in a table massage the head, neck, shoulders, back and the sides, arms and hands ; upper chest ; ribs, stomach, buttocks (if you wish), legs and last but not least, both feet.

I also enjoy doing pulsing and stretching. It is also possible to perform a quiet dance in which the person who receives massage fully accepts the limb movements and relaxation.

Within a session of a good hour a choice is made of the body parts mentioned above; this selection is geared both towards the situation and the needs of the one who gives and receives. Before starting I do appreciate a short talk and perhaps some loosening the muscles and grounding the body.

At the end of the session various parts of the body have been touched with energy and care; regaining the sense of unity of the body is reached by the repeated feathery light trace on the whole body of 'energizing finishing strokes'

Thus whole session takes just over an hour.

I enjoy exchanging - but can also give massages. A handicap is no objection. Yet I will not treat serious medical conditions as I am not a licensed physiotherapist.
I do speak Dutch, English, German and also some French and Italian and I have studied at the Amsterdam Free University (Vrije Universiteit)
Lichaam & Ziel [Body & Soul] is my company name; I can receive you at my home or visit you in the Amsterdam area; my professional massage table can be moved by car. Clients are requested to sign a Medical Release Form.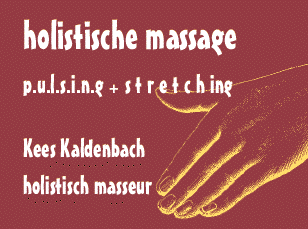 Go to the Chair massage
Go to the Four Hands massage
Read a client report.
Give a massage gift certificate
Go to the Dutch version.
Hotel Freeland. A gay-friendly hotel in Amsterdam near Leidseplein.






Cool Philosophy inspired by Wilhelm Reich
Priscilla Kapel: 'The Body Says Yes : Muscle Testing Tunes into your Body's Needs' 1981.
"The human body has been cherished since time immemorial...
Special deals! For prices please call or email me.
A client bringing in a new customer gets a one time E 10,- rebate.






Reaction, questions?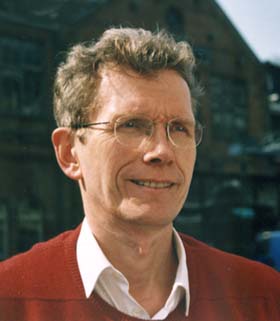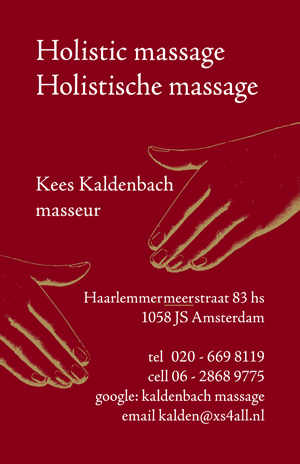 Center for Applied Massage Art - Kees Kaldenbach, kalden@xs4all.nl. Haarlemmermeerstraat 83 hs, 1058 JS Amsterdam (near Surinameplein, ring road exit s106, tram 1 and 17). Telephone 020 669 8119; cell phone 06 - 2868 9775. Open seven days a week.
Masseur Kees Kaldenbach is collaborating with a number of masseurs and masseuses in Amsterdam. He is also active as a masseur in the finest and most luxurious hotels.
I give this massage at various addresses: at my home address (see above), or at your own home or at your hotel.
Lichaam & Ziel [Body & Soul] is registered at the Amsterdam Chamber of Commerce, number 3419 6612.
See Akademie voor Massage en Beweging www.akademie.nl






--- === --- news flash --- === --- 0 --- === --- news flash --- === ---
Psychological Bulletin, January 2004 highlights
MASSAGE THERAPIY AGAINST DEPRESSION
Psychologists at Illinois University have researched effectiveness of massage therapy. A series of visits to the masseur may reduce depression, anxiety and pain. Even single visits may help alleviating anxiety and pain and may reduce hypertension and a high heart rate.
Psychological Bulletin, January 2004